Quick Facts
| | |
| --- | --- |
| Name | Tom Thumb |
| Manufacture Date | 1927 (Original 1830) |
| Railroad Of Record | Baltimore & Ohio Railroad |
| Manufacturer | Baltimore and Ohio Railroad |
| Rolling Stock Type | Steam Locomotive |
| Speed | 13 mph |
| Weight | 10,000 lbs |
| Tractive Effort | 820 lbs |
Description
Although steam locomotives existed elsewhere in the world, the Baltimore & Ohio Railroad (B&O) originally relied on horses to pull its passenger and freight trains. In 1830, inventor and businessman Peter Cooper developed and built a small coal-burning steam locomotive that was suitable for the B&O's planned right of way and track, then from Baltimore to Ellicott Mills, MD (now Ellicott City). This demonstration locomotive featured an upright boiler, short wheelbase, and geared drive. On August 28, 1830, Peter Cooper's locomotive carried the B&O directors in a passenger car to Ellicott's Mills. To the amazement of the passengers, the locomotive traveled at an impressive speed of 10-14 miles per hour. 
The locomotive was later given the name "Tom Thumb" because of its small size and weight. The "Tom Thumb" has been known as the first successful American steam locomotive. It hauled passengers until at least March 1831 but was never placed into regular service. The "Tom Thumb" was salvaged for parts in 1834. 
According to legend, the "Tom Thumb" entered a famous race with a horse-drawn car while returning from a trip from Ellicott's Mills in August 1830. The locomotive was well ahead of the horse-drawn car when the blower belt came off the pulley, causing the engine to lose its steam. Peter Cooper tried to fix the engine belt, but it was too late to overtake the horse. Although the legend is a staple of American folklore, it was never substantiated through documentation. 
Peter Cooper was not recognized for his accomplishment until 1875 when he described and sketched a drawing of the locomotive. The Museum's replica was constructed for the B&O Railroad's 1927 Fair of the Iron Horse. This operating replica follows the general description given by Peter Cooper, but was built for performance in the 1927 fair, rather than historical accuracy. Still, this replica is nearly a century old and historic in and of itself. 
The Tom Thumb set the stage for operation of the B&O with steam locomotives instead of horses. Its fame is so wide it appeared on a US postage stamp in 1952.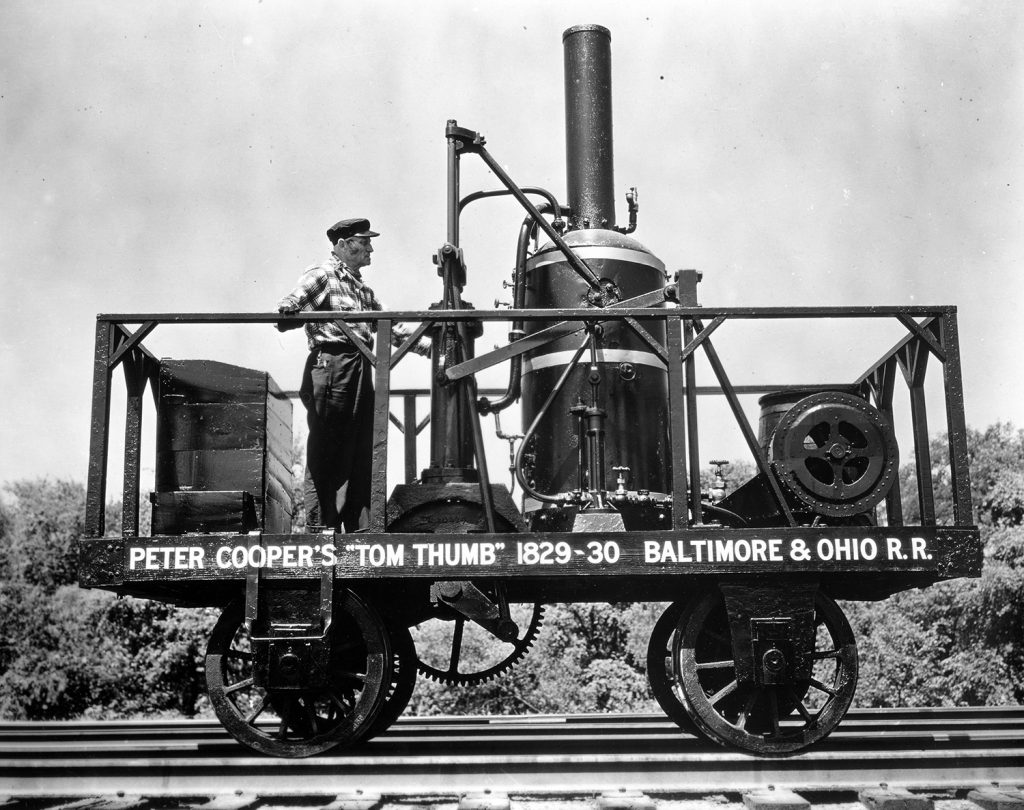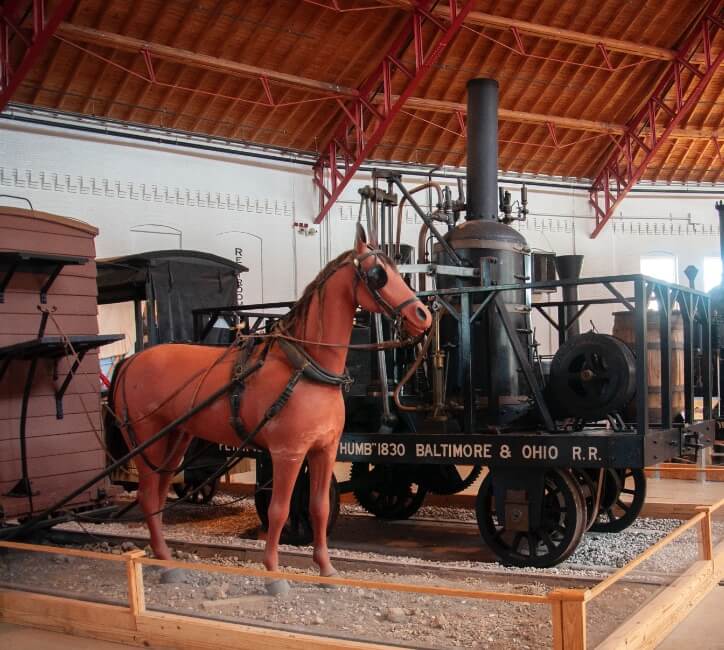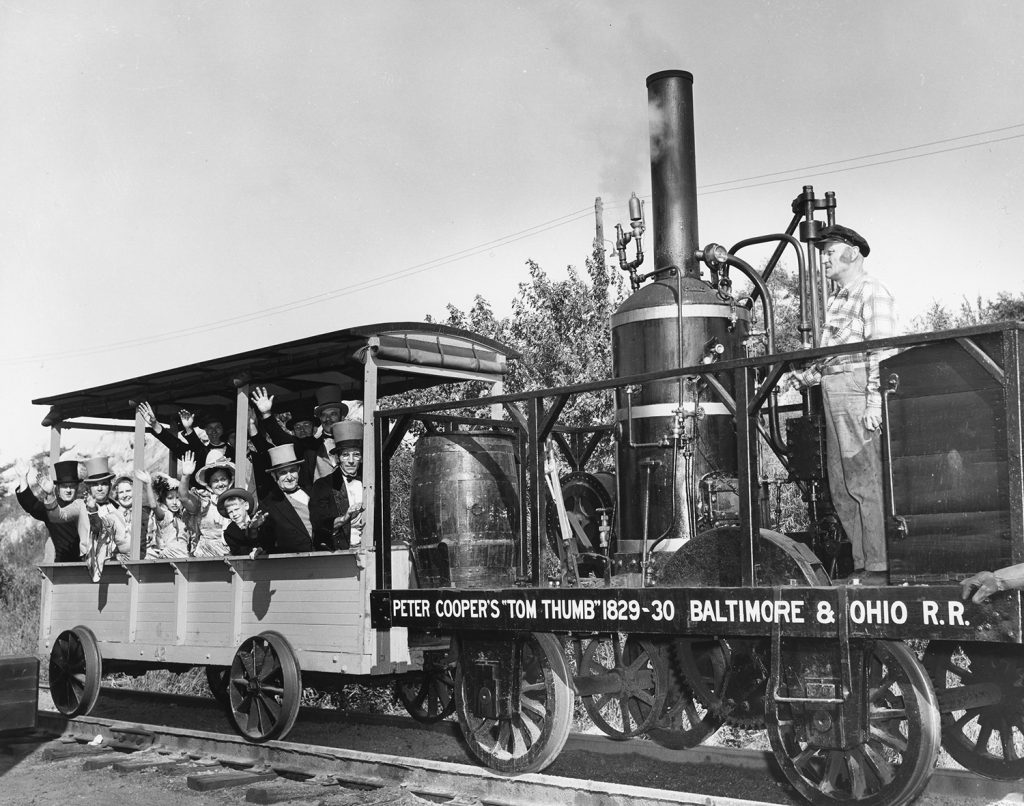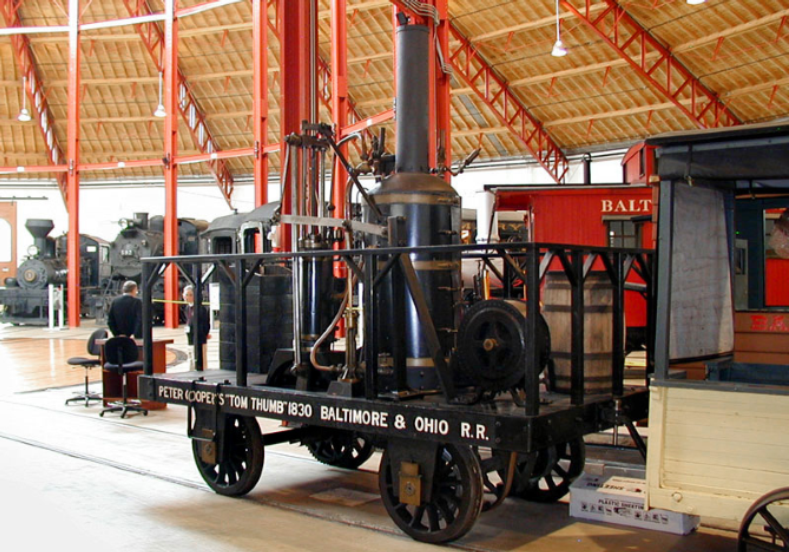 Can't Get Enough?
There's even more to explore. Check out this and other unique pieces from our collection.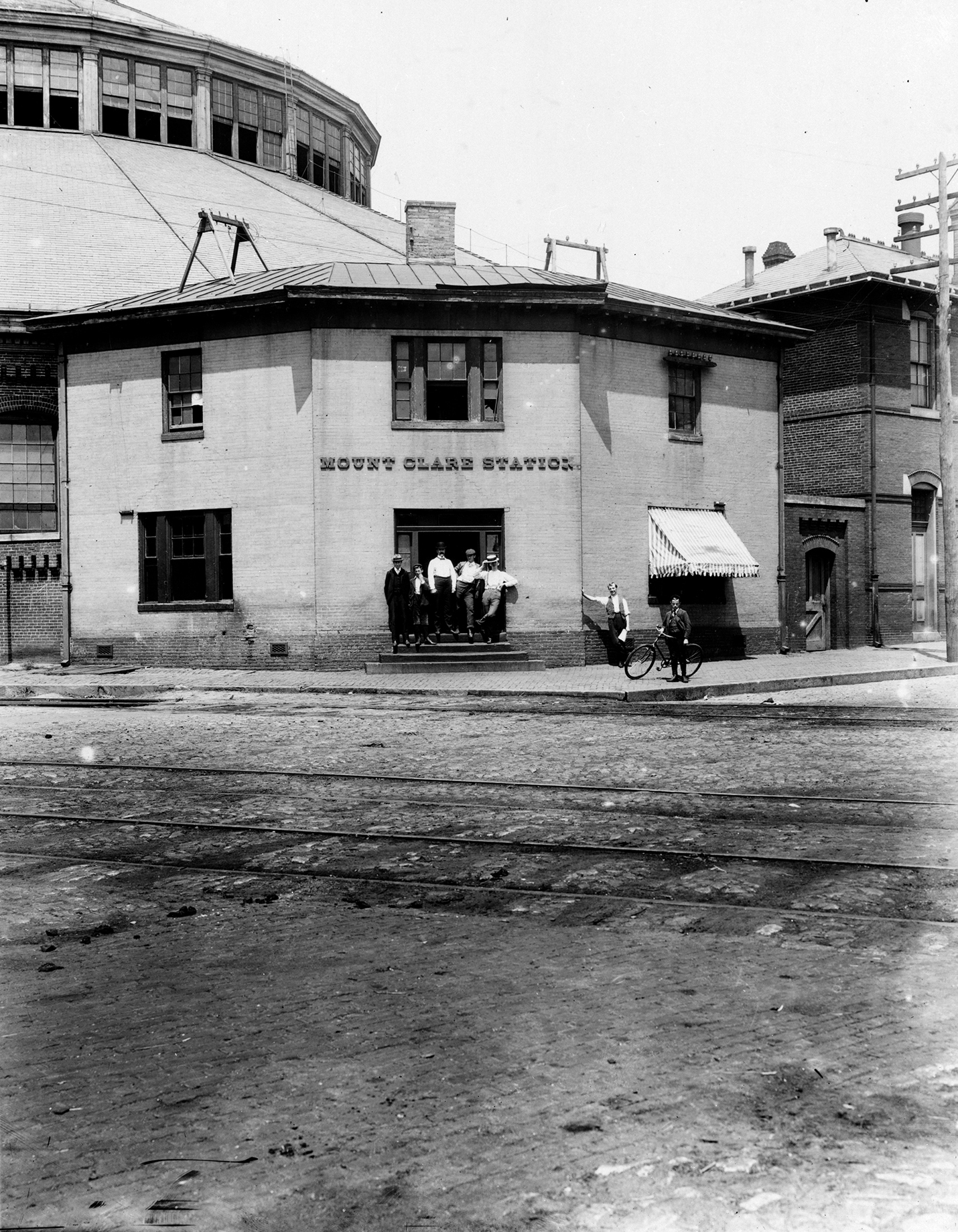 Did You Know?
The first passenger train ticket in the United States was sold on our historic site in 1830.