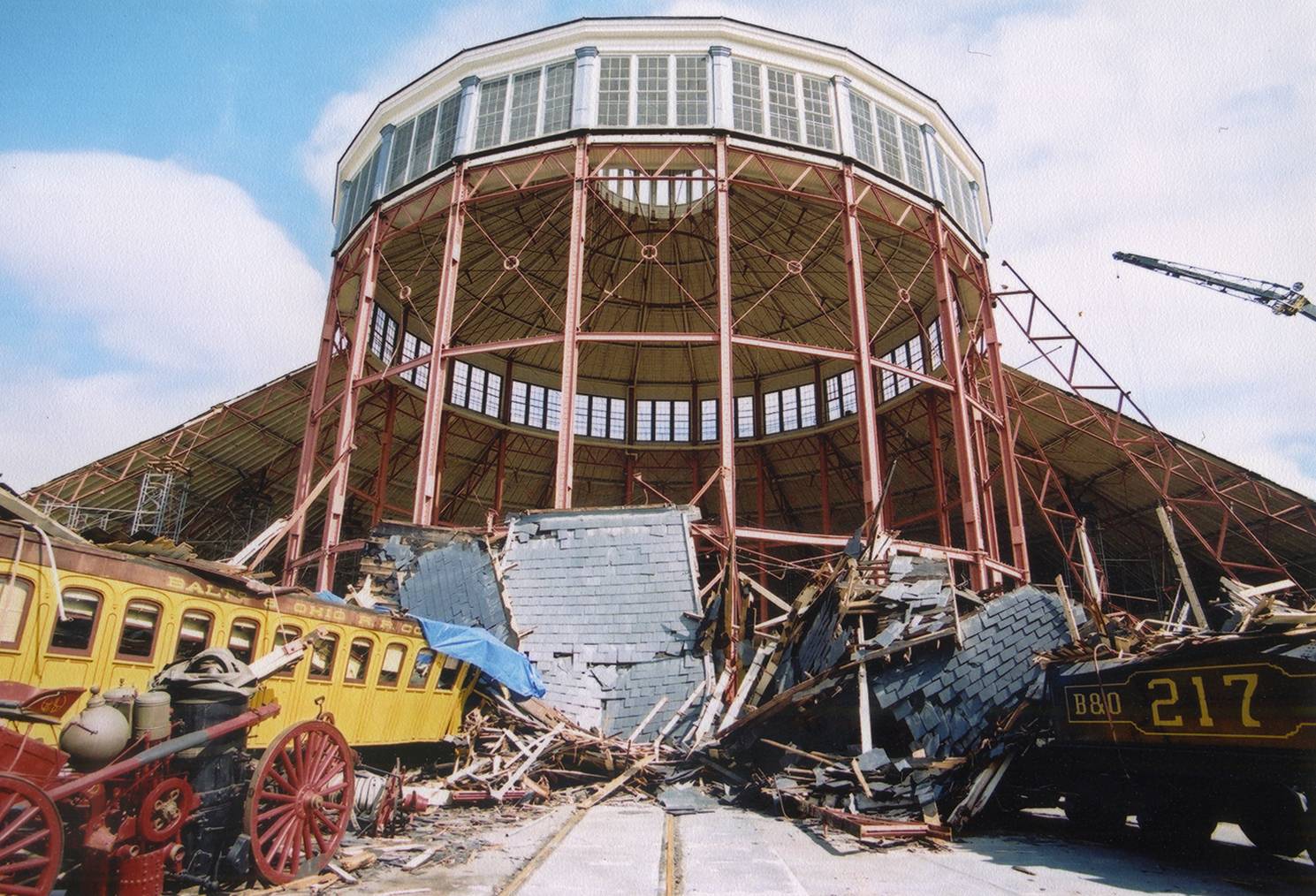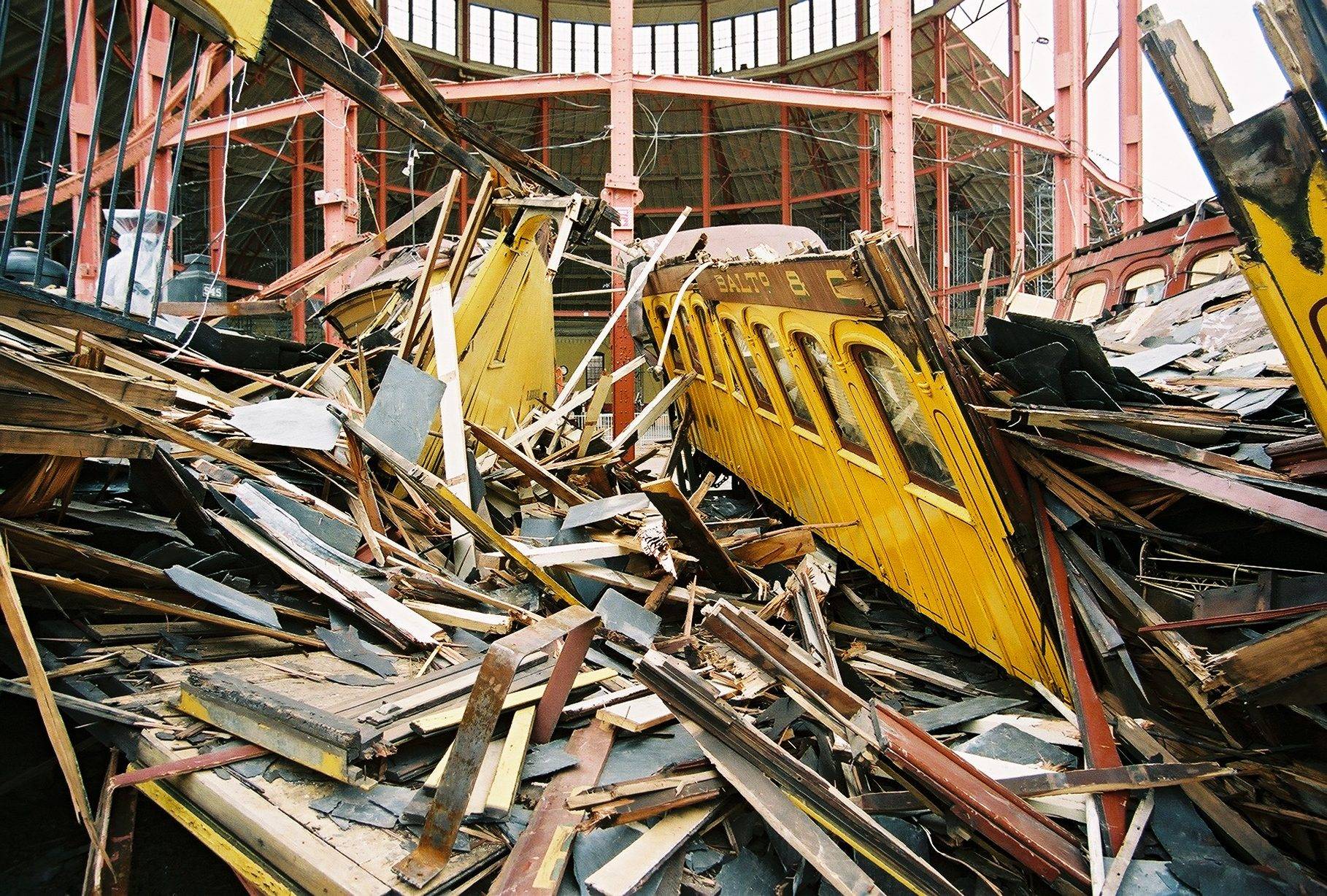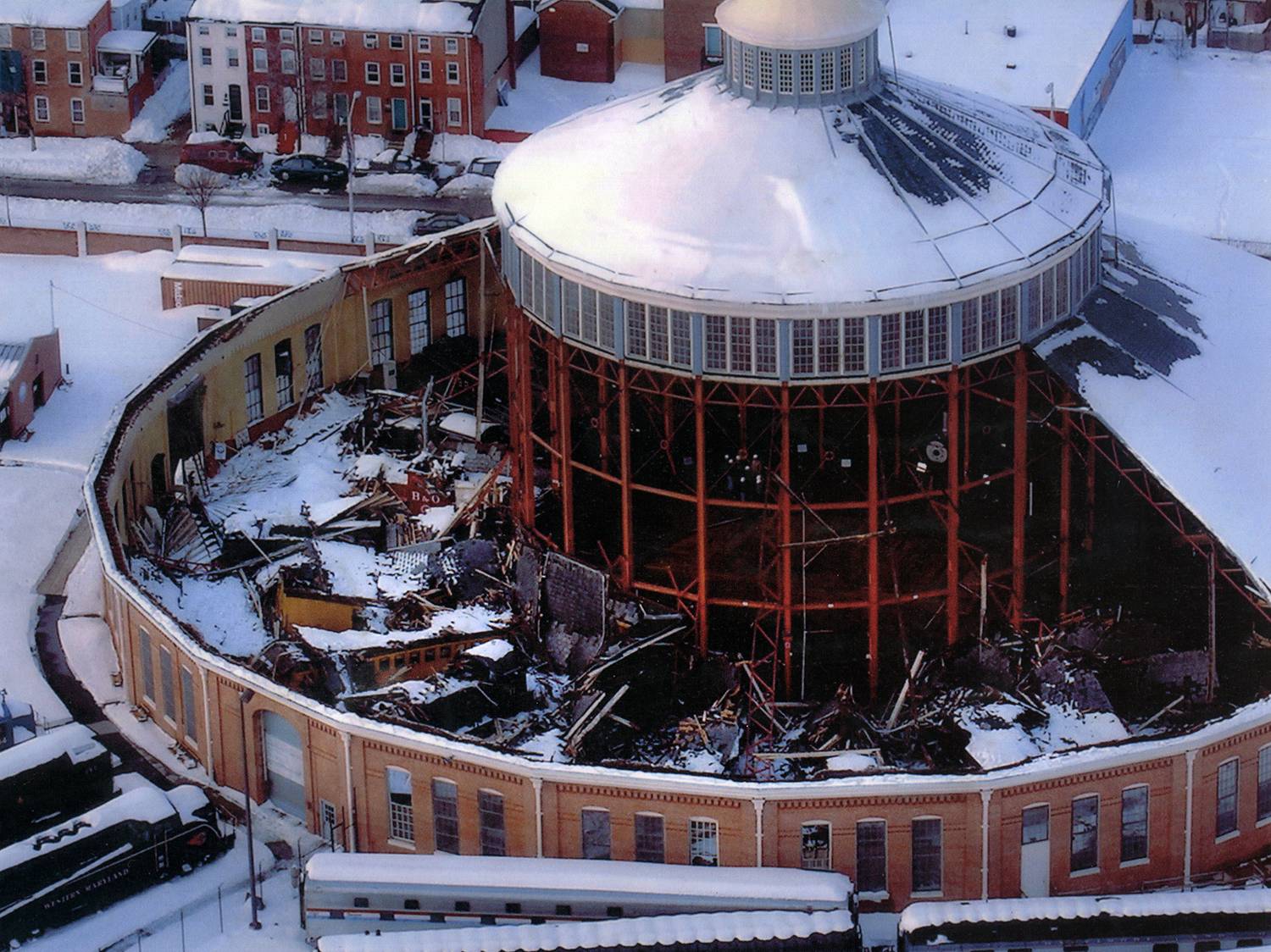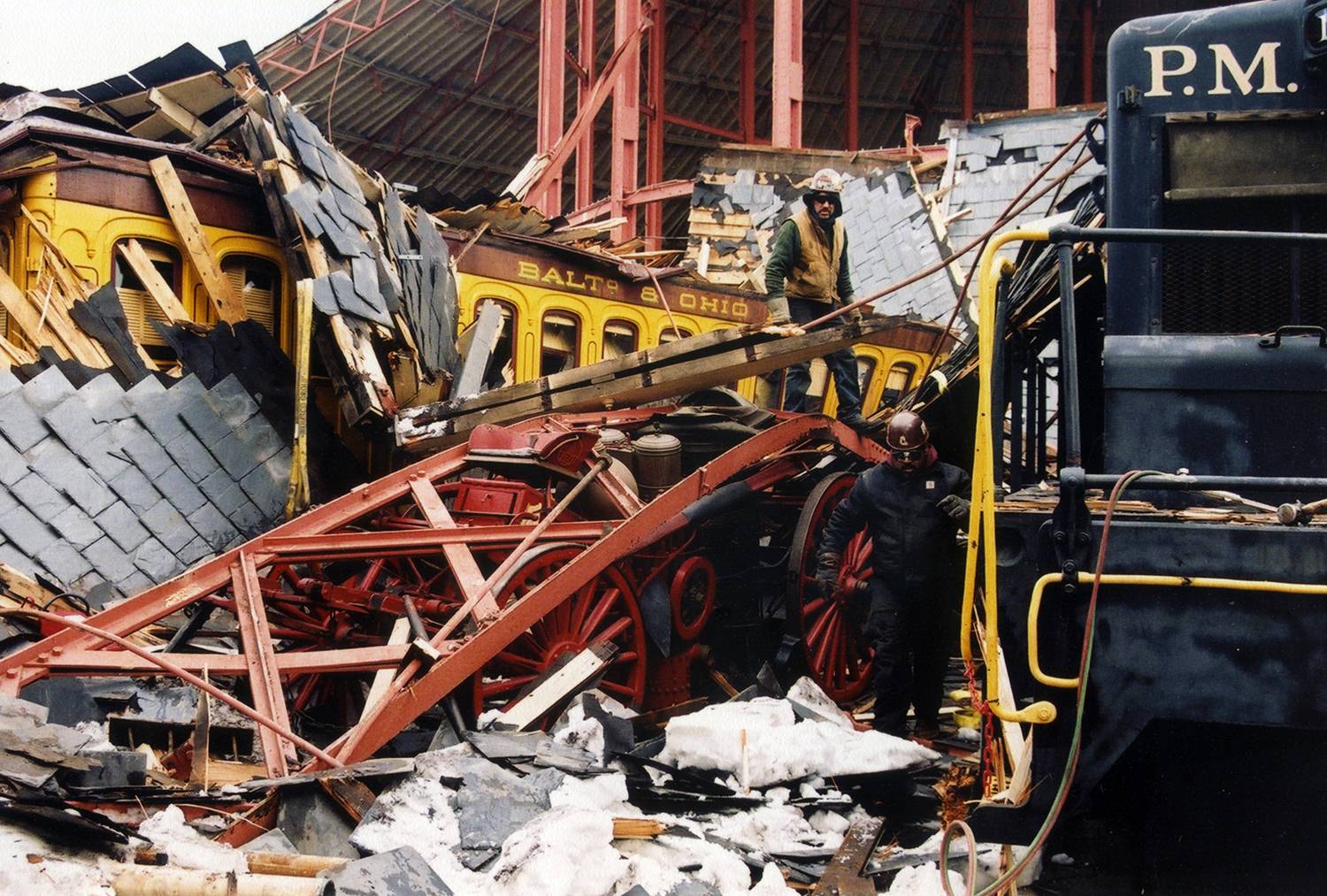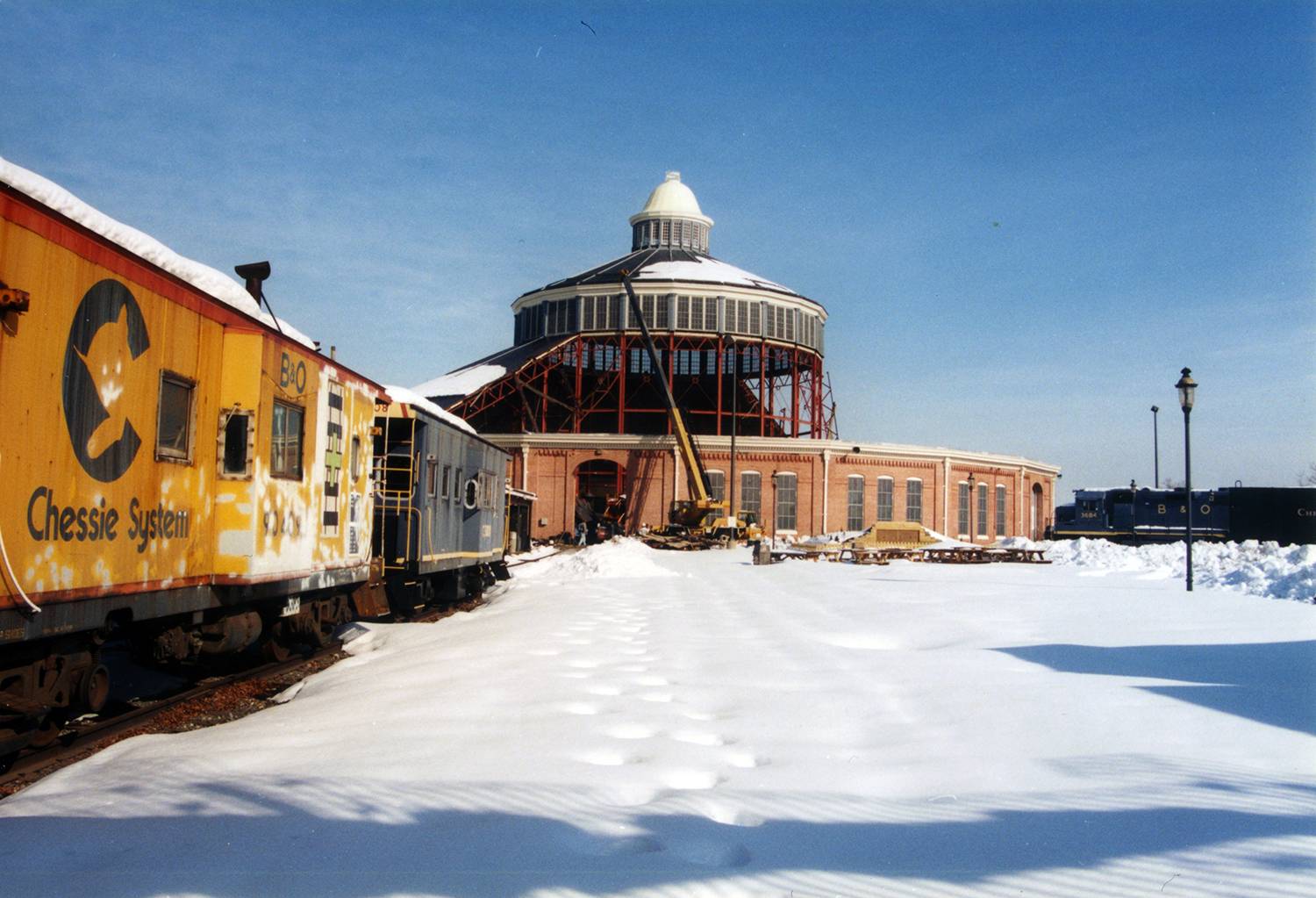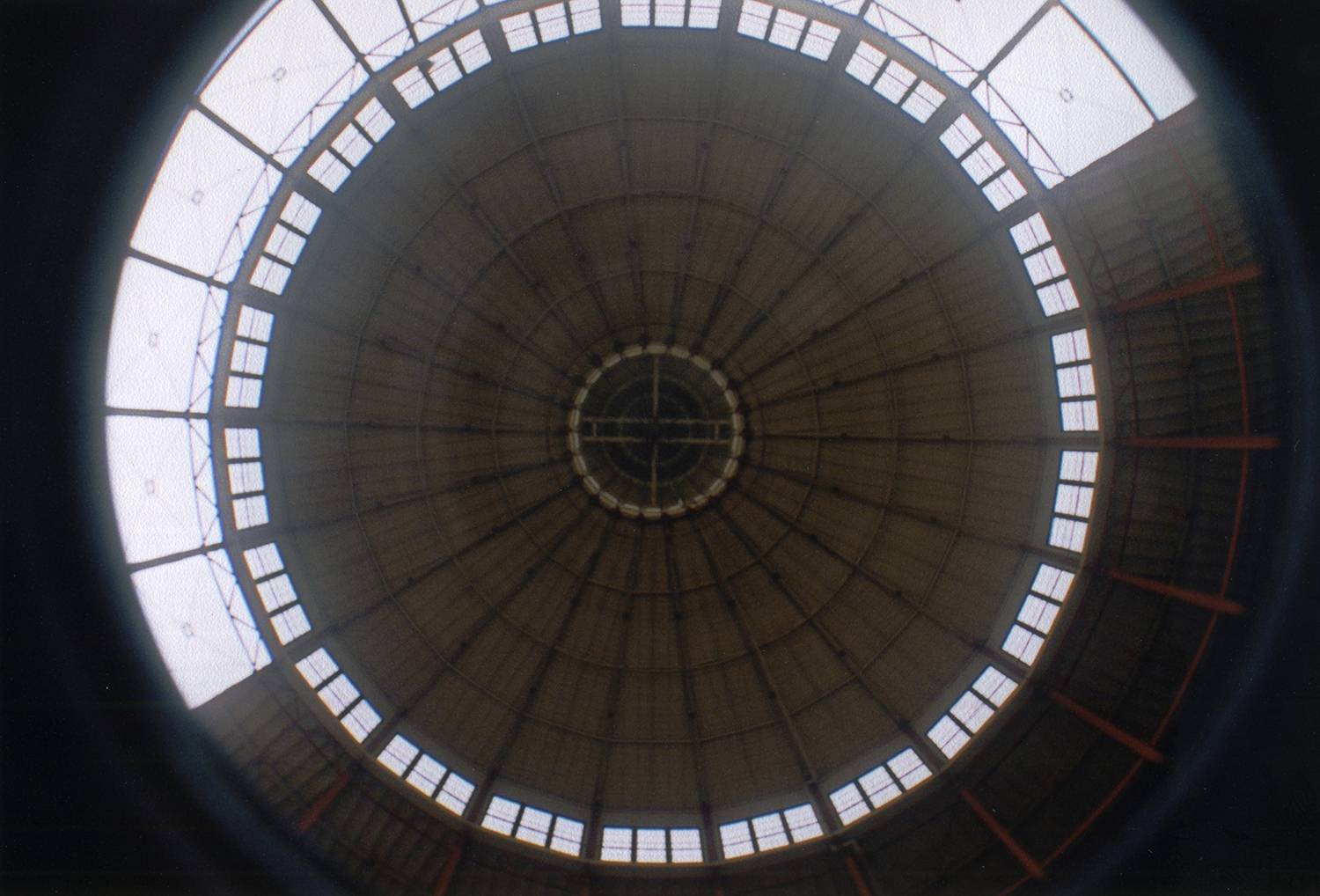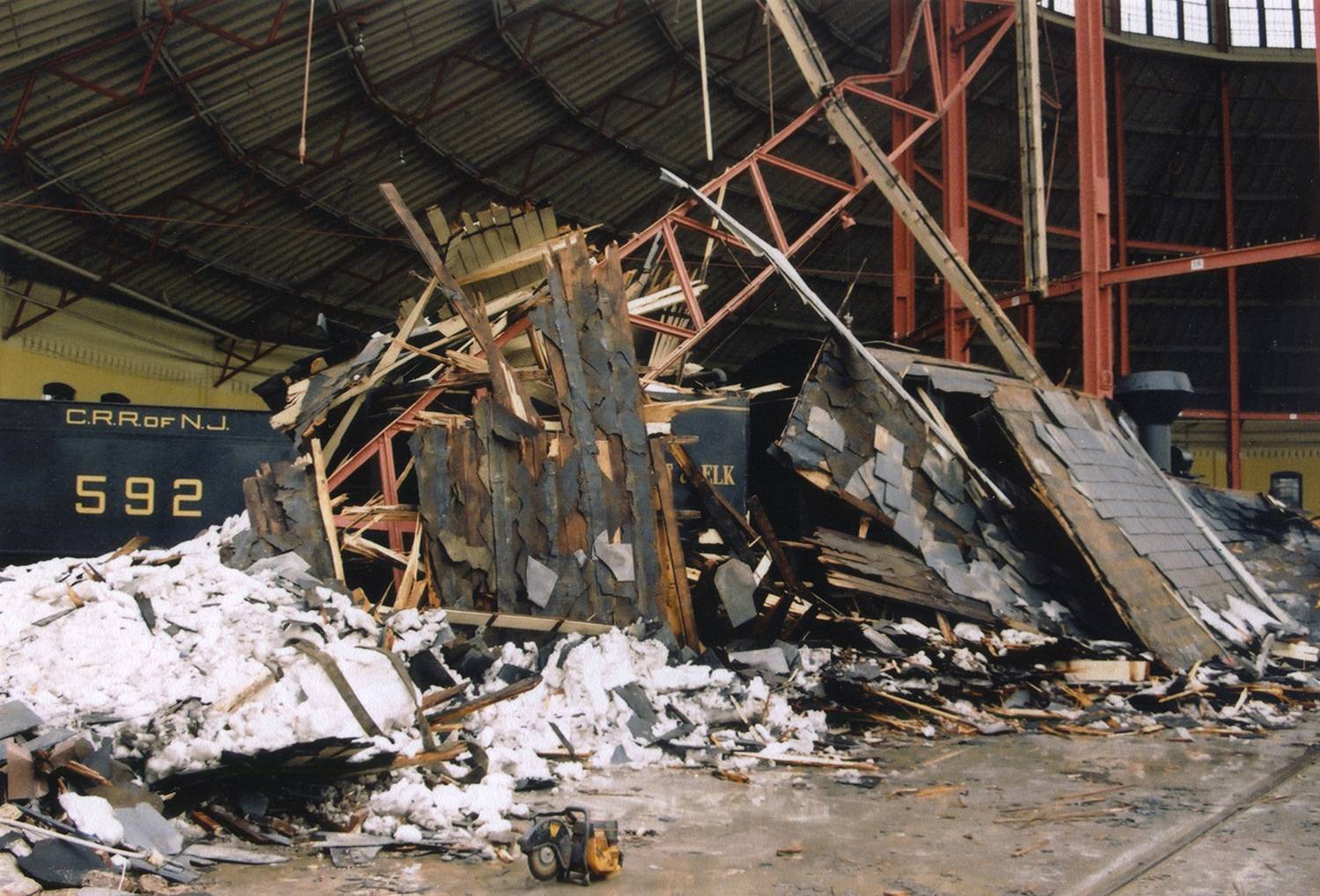 On February 17, 2003, the roof of the 1884 Baldwin Roundhouse on the B&O Railroad Museum's campus collapsed due to record snowfall in Baltimore of more than 28 inches.
Thousands of pounds of snow, slate, shingles, decking, rafters, posts, trusses, and wrought iron fell onto many of the historic pieces of the Museum's collection, which took years of restoration to repair.
Locomotives and rolling stock heavily damaged by the collapse include: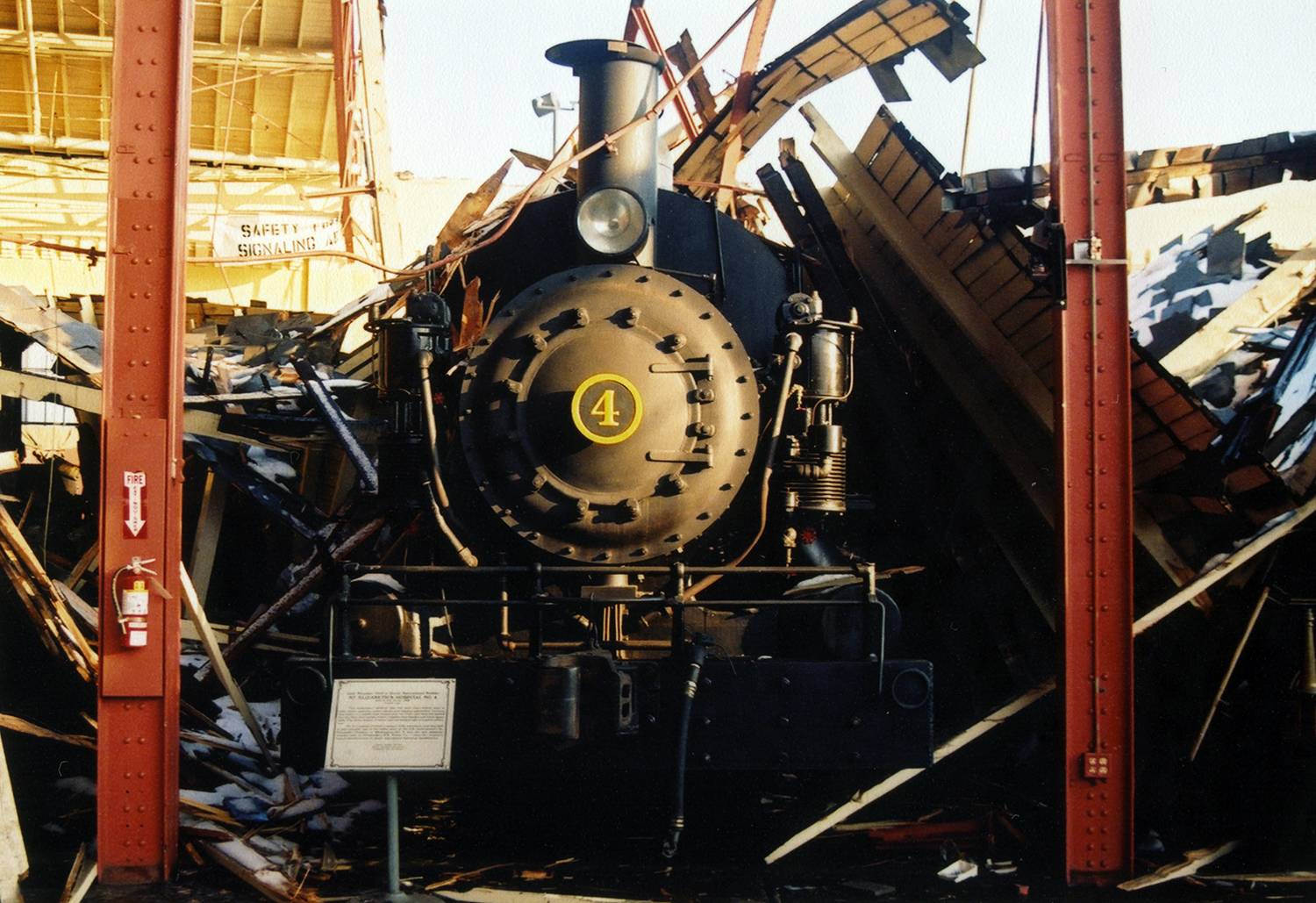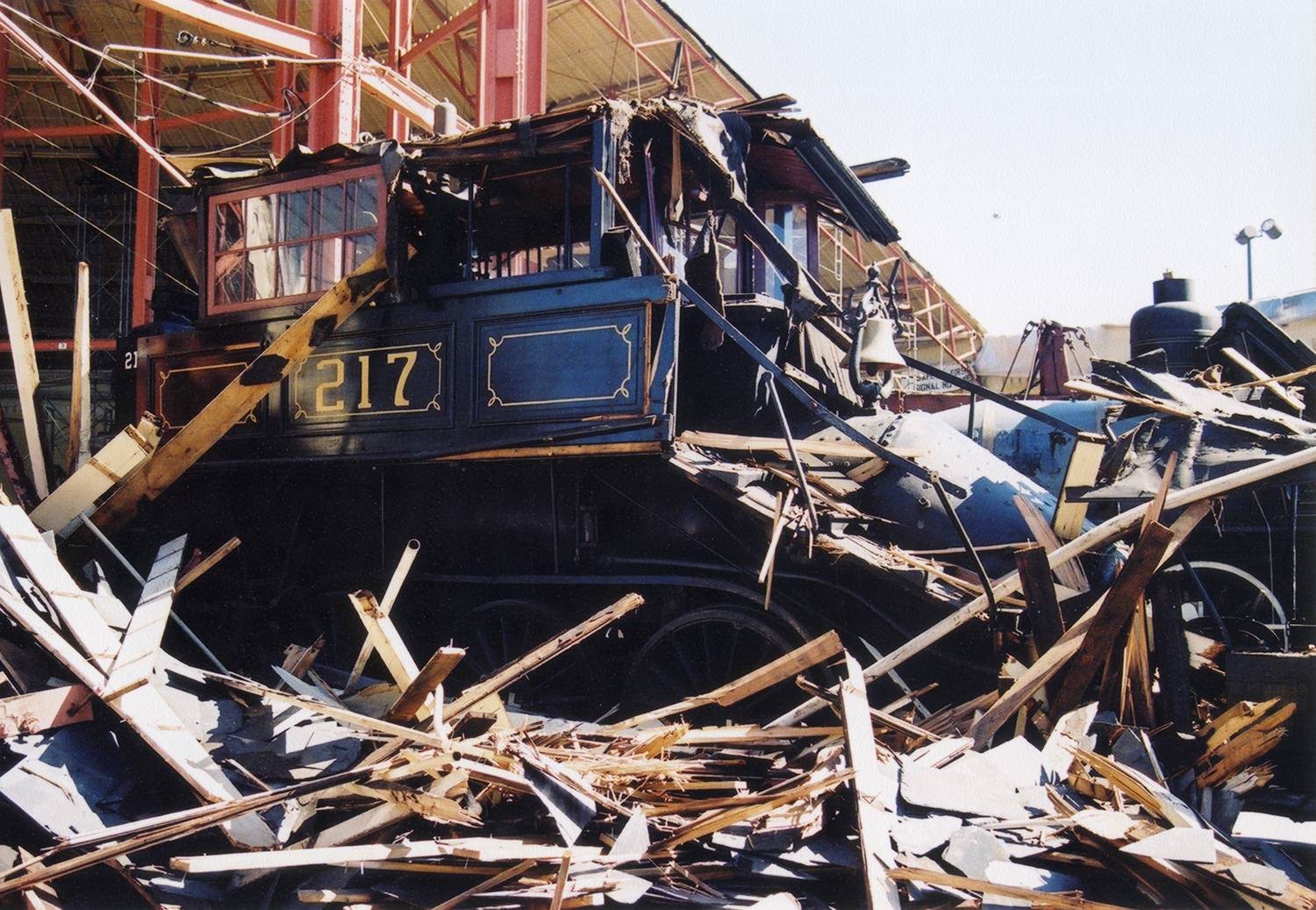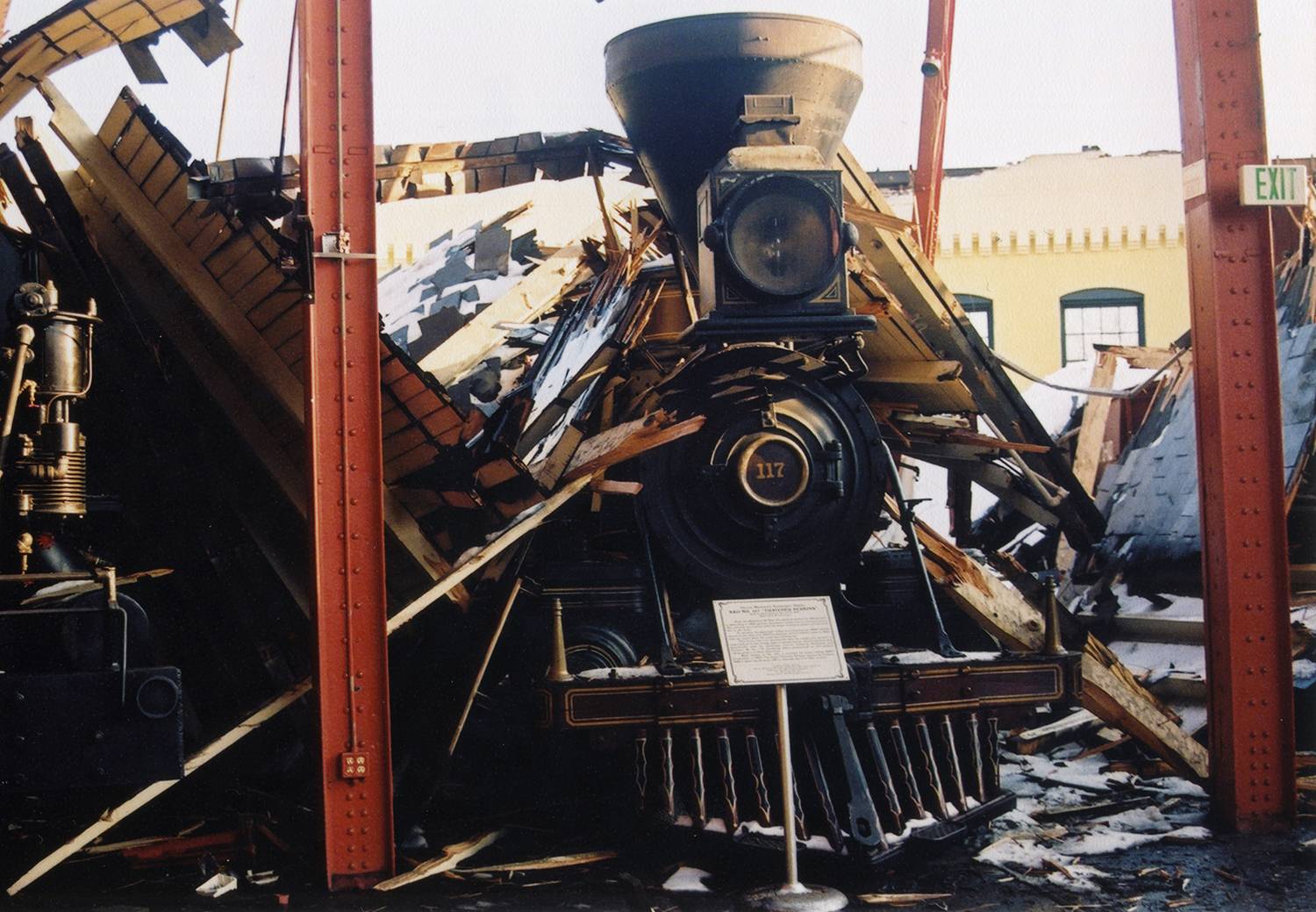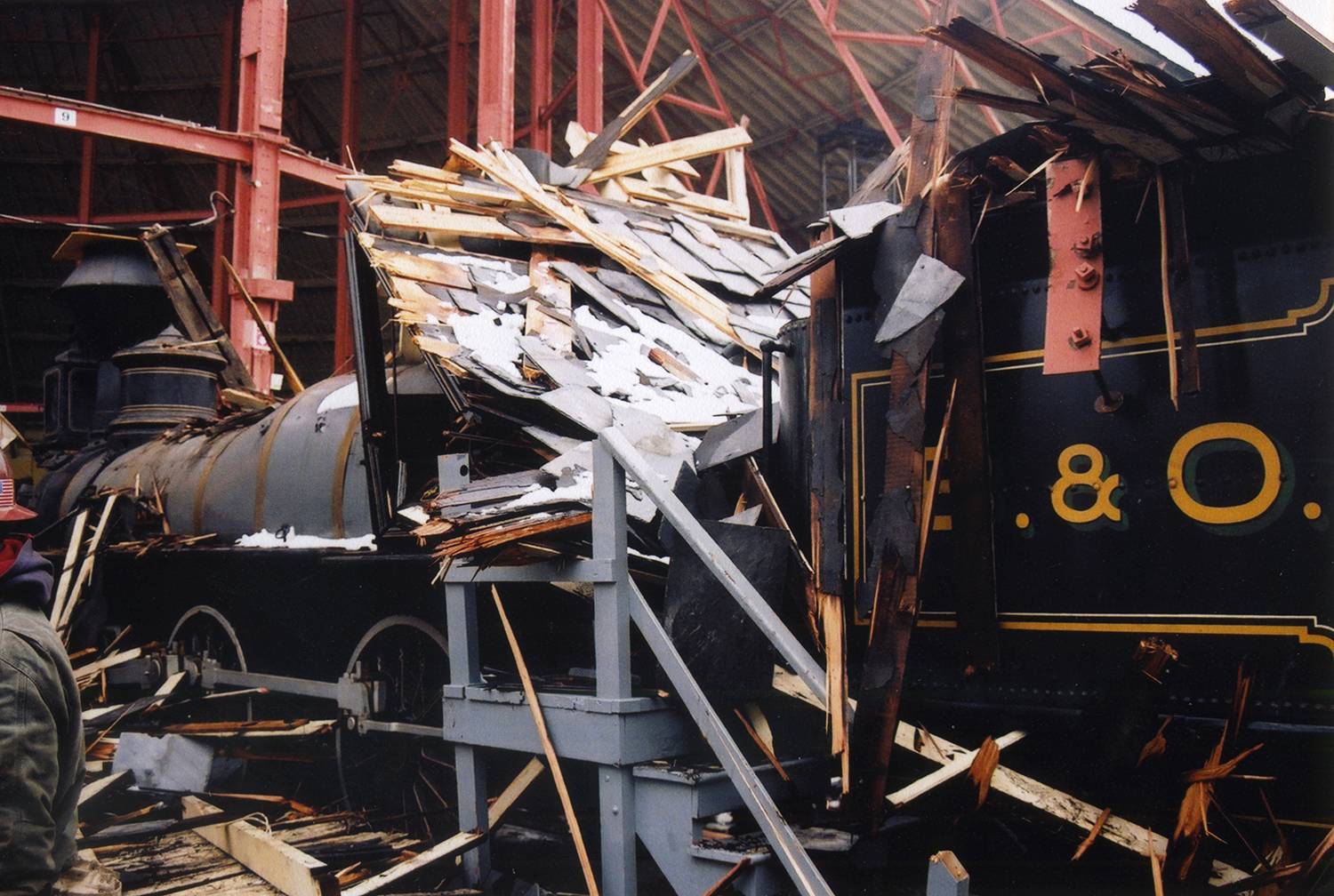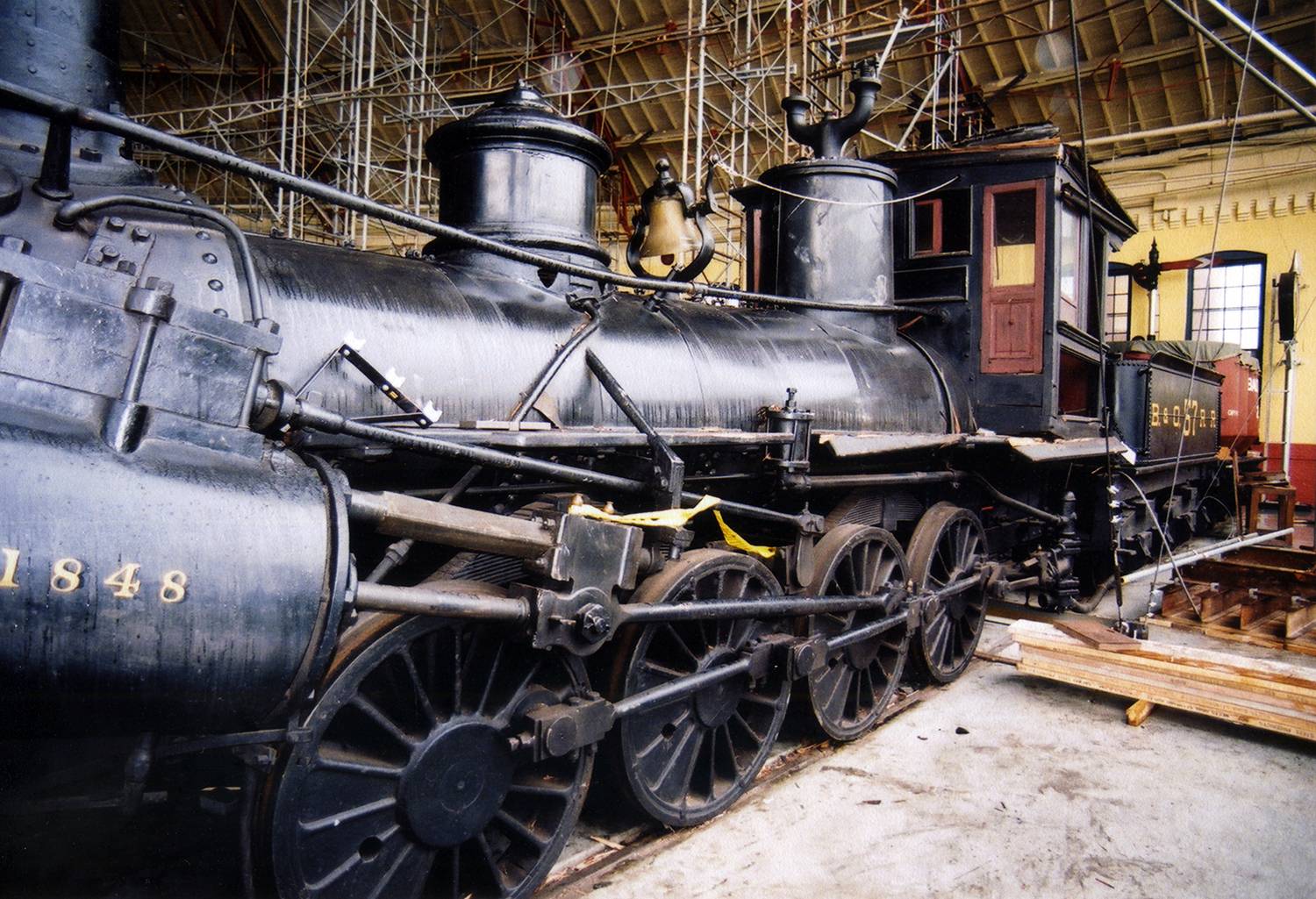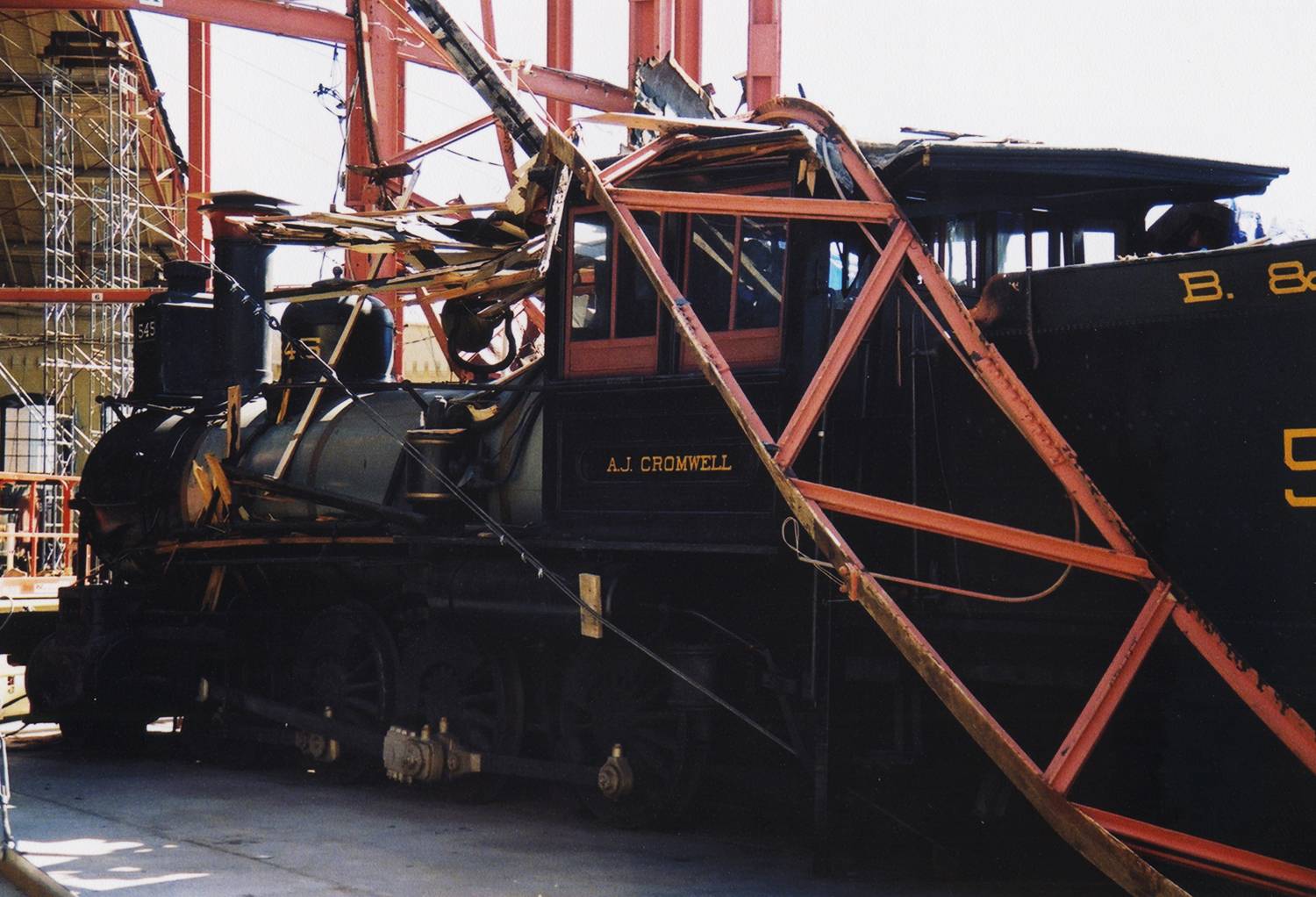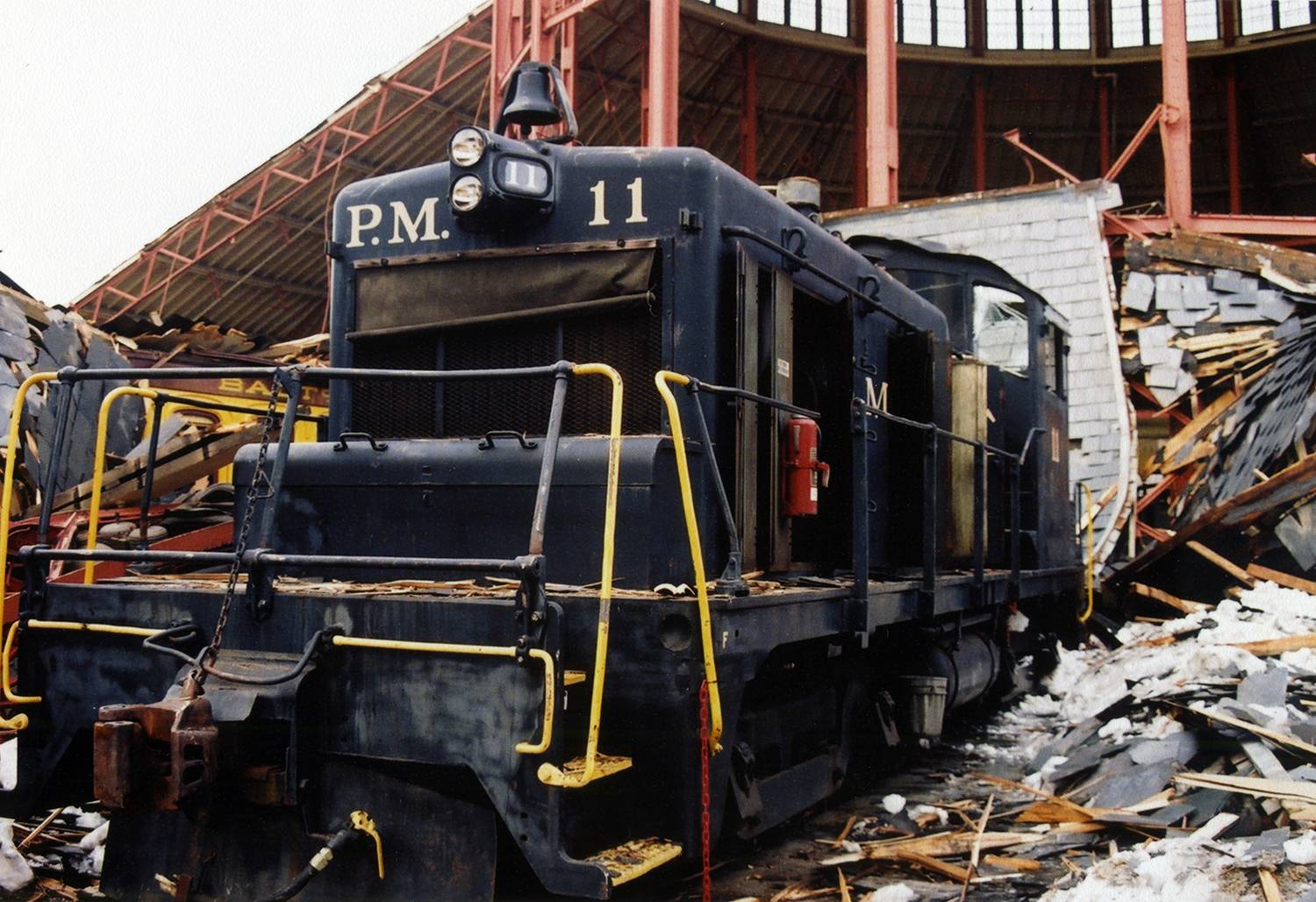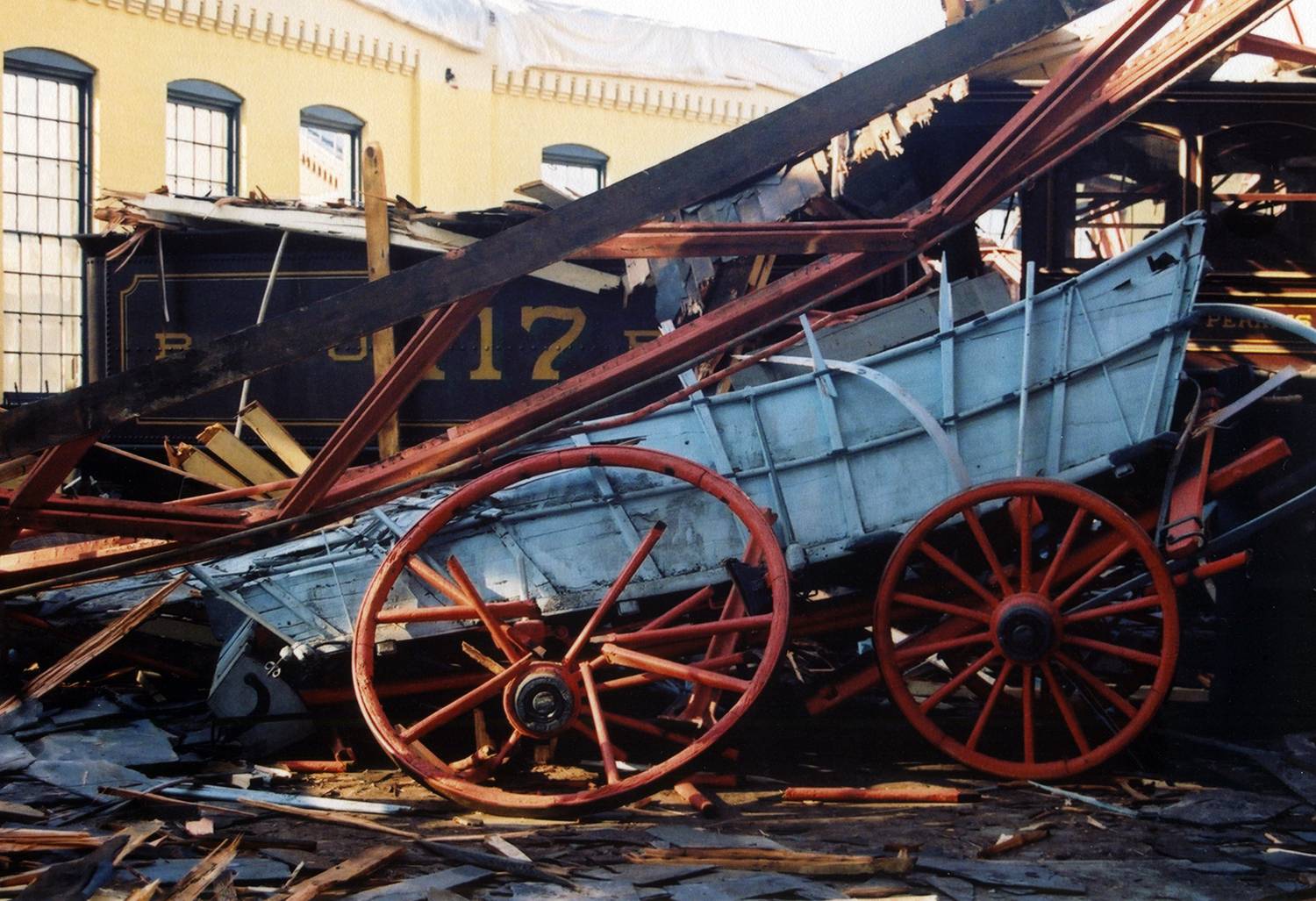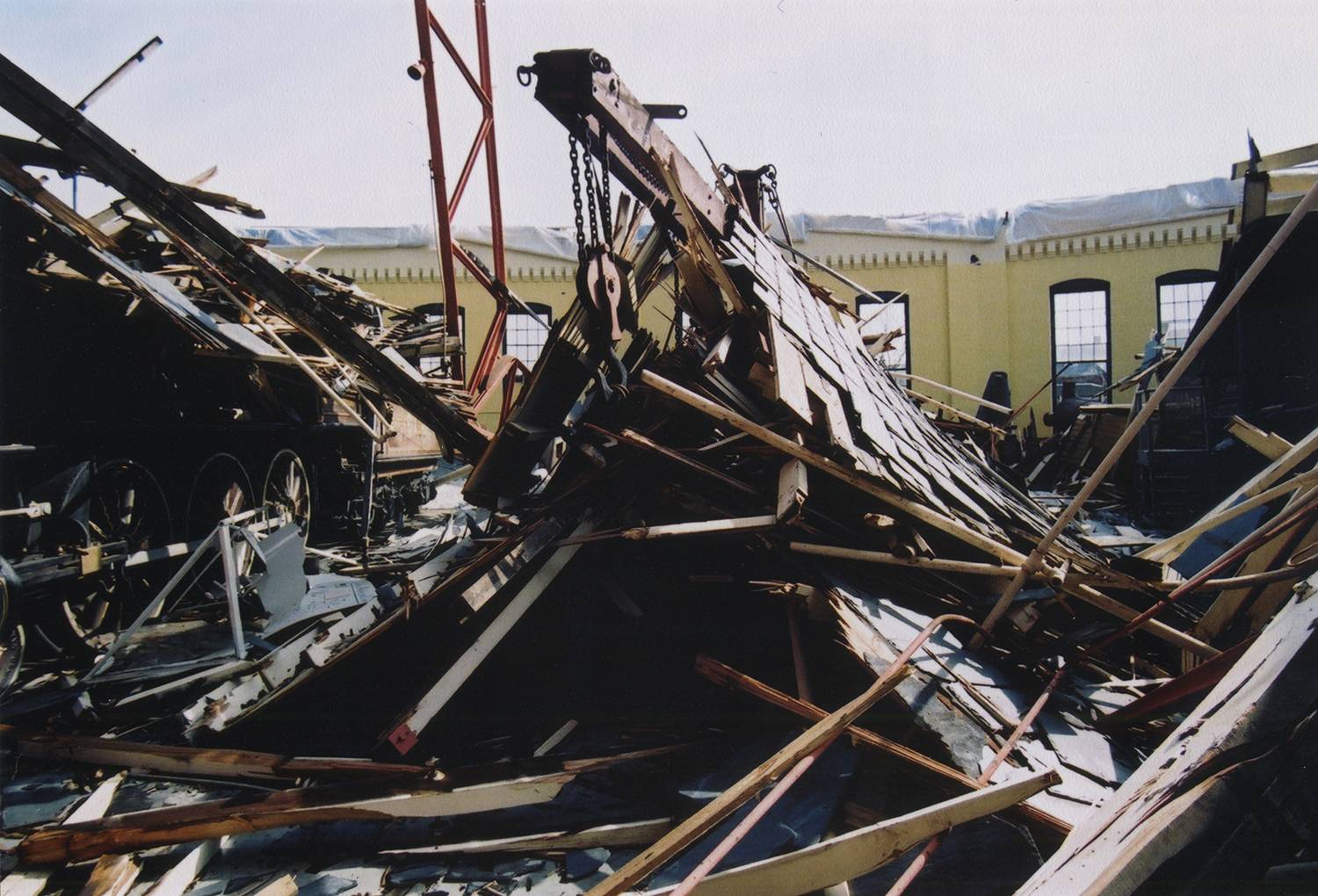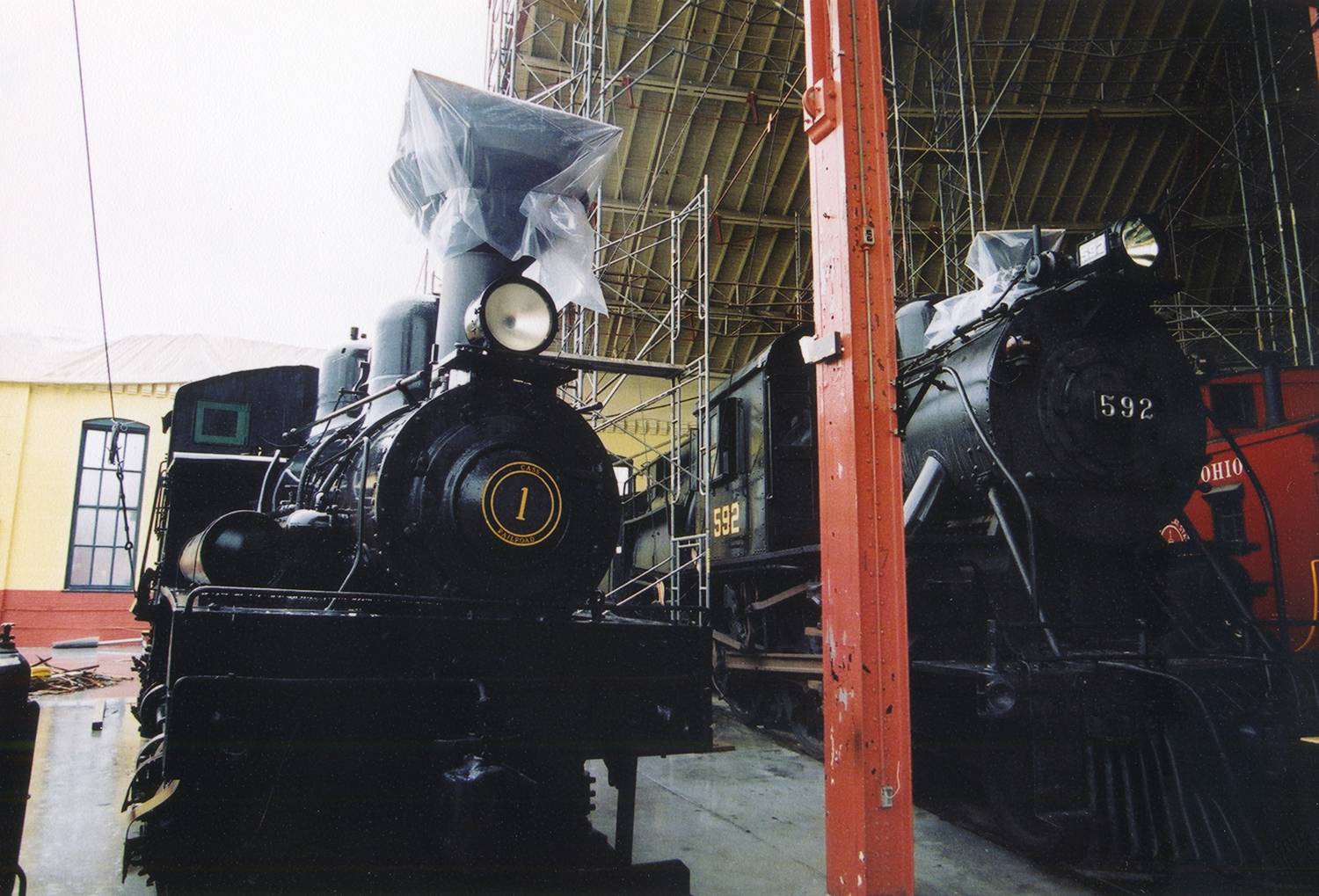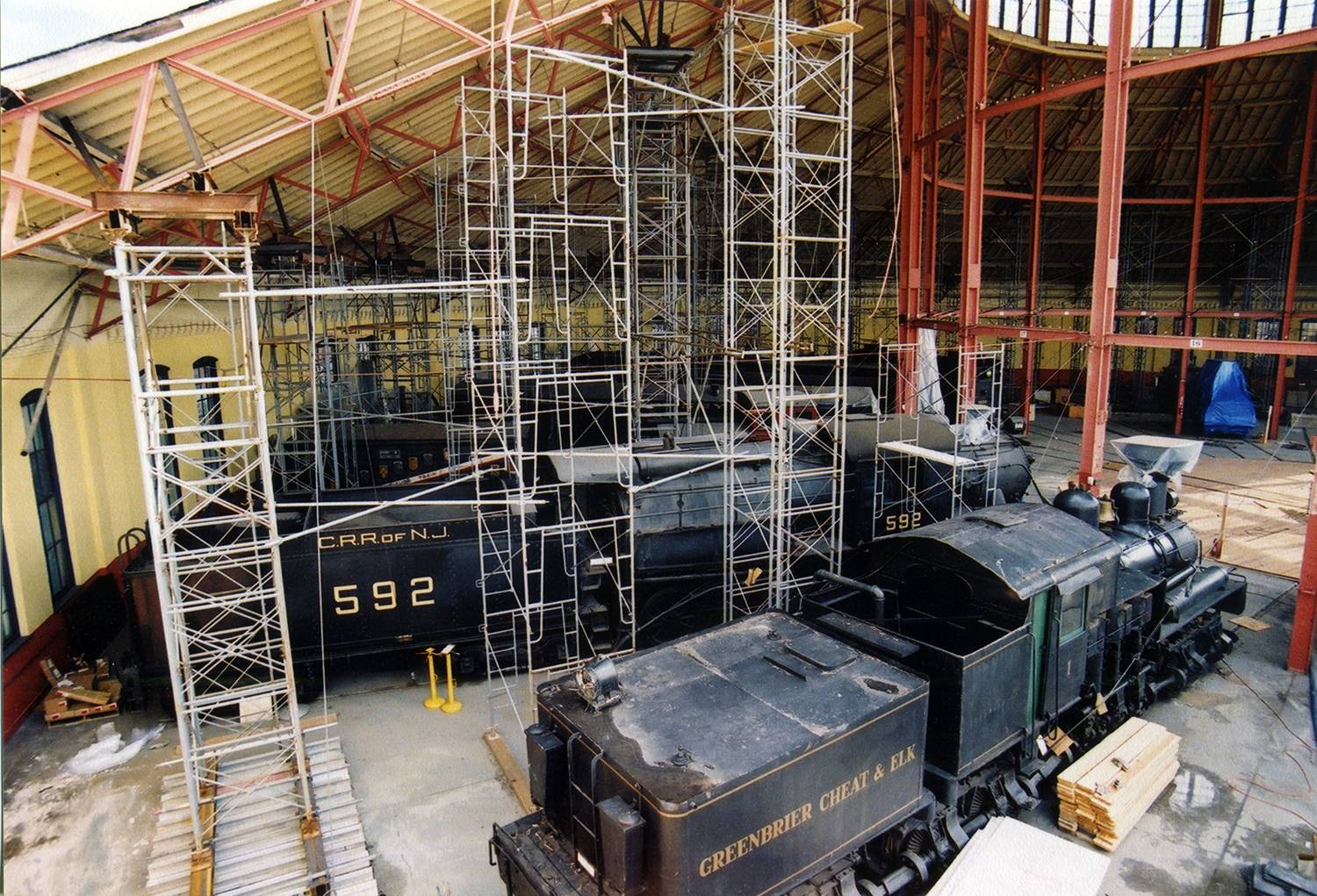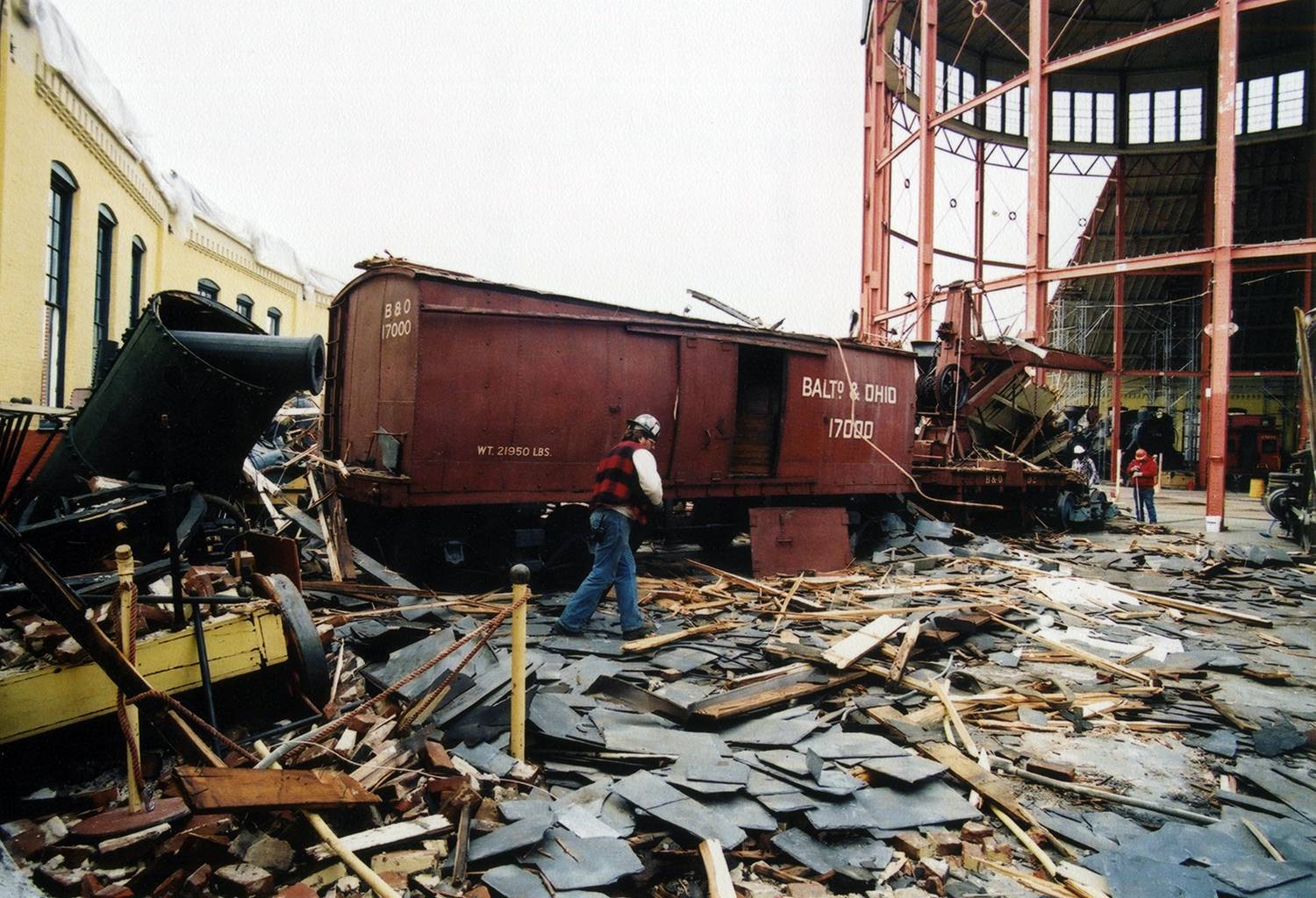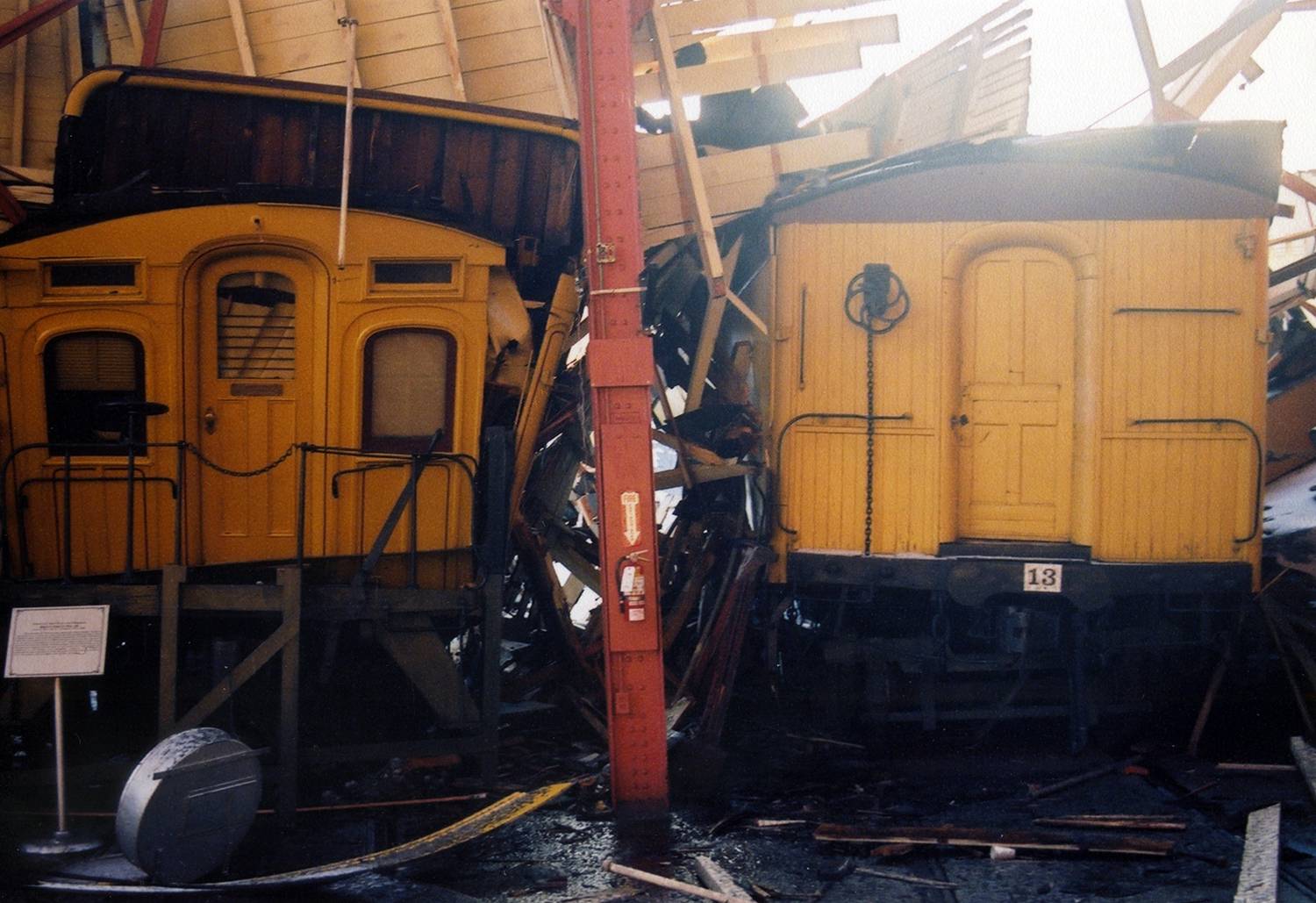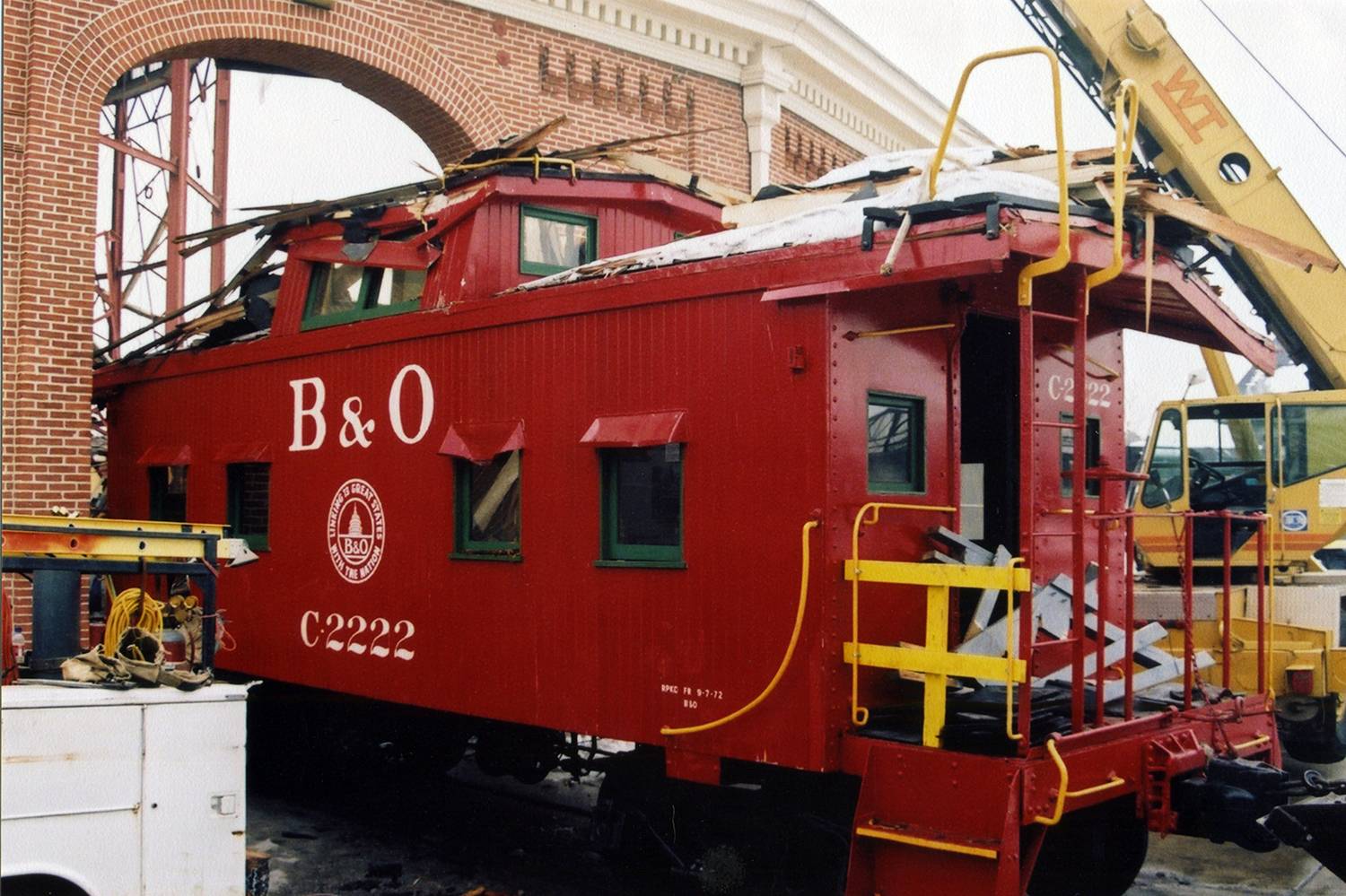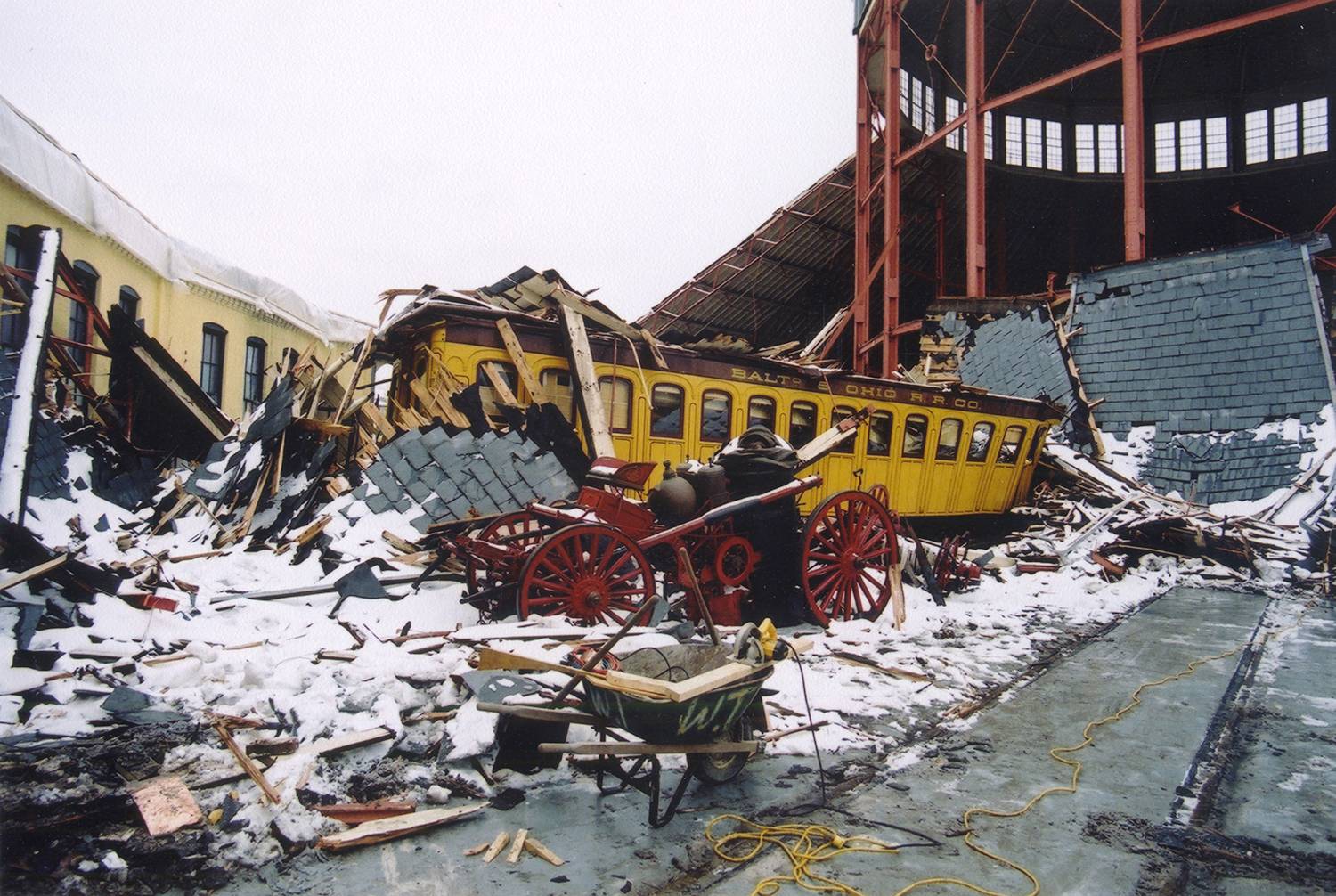 Slide 1
B&O No. 217 (Renumbered 305)
Slide 1
B&O No. 117 (renumbered 147)
The B&O No. 20 was completely destroyed and the B&O No. 10 was not repaired.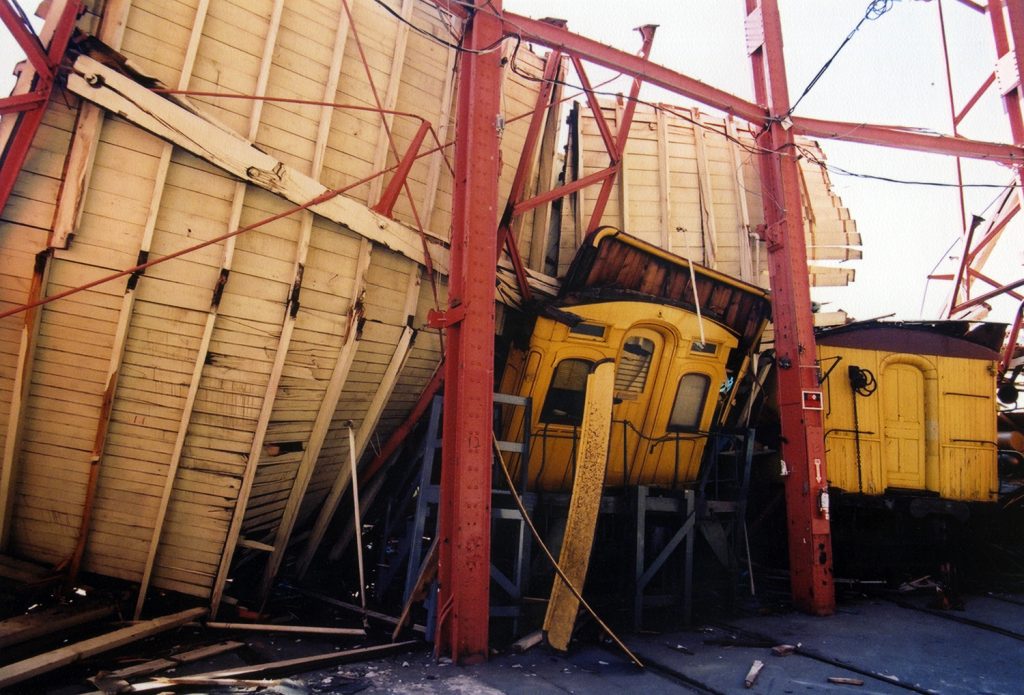 At the time, there were concerns that the roof collapse could mark the end of the B&O Railroad Museum. However, support came in from around the world and the "Cathedral of American Railroading" was built back better than before. The Museum faced the challenge of recreating this historic building while also correcting the original engineering flaws to meet modern-day building code requirements. A national team of curators was utilized in doing so, as they assisted with damage assessments of locomotives and other rolling stock.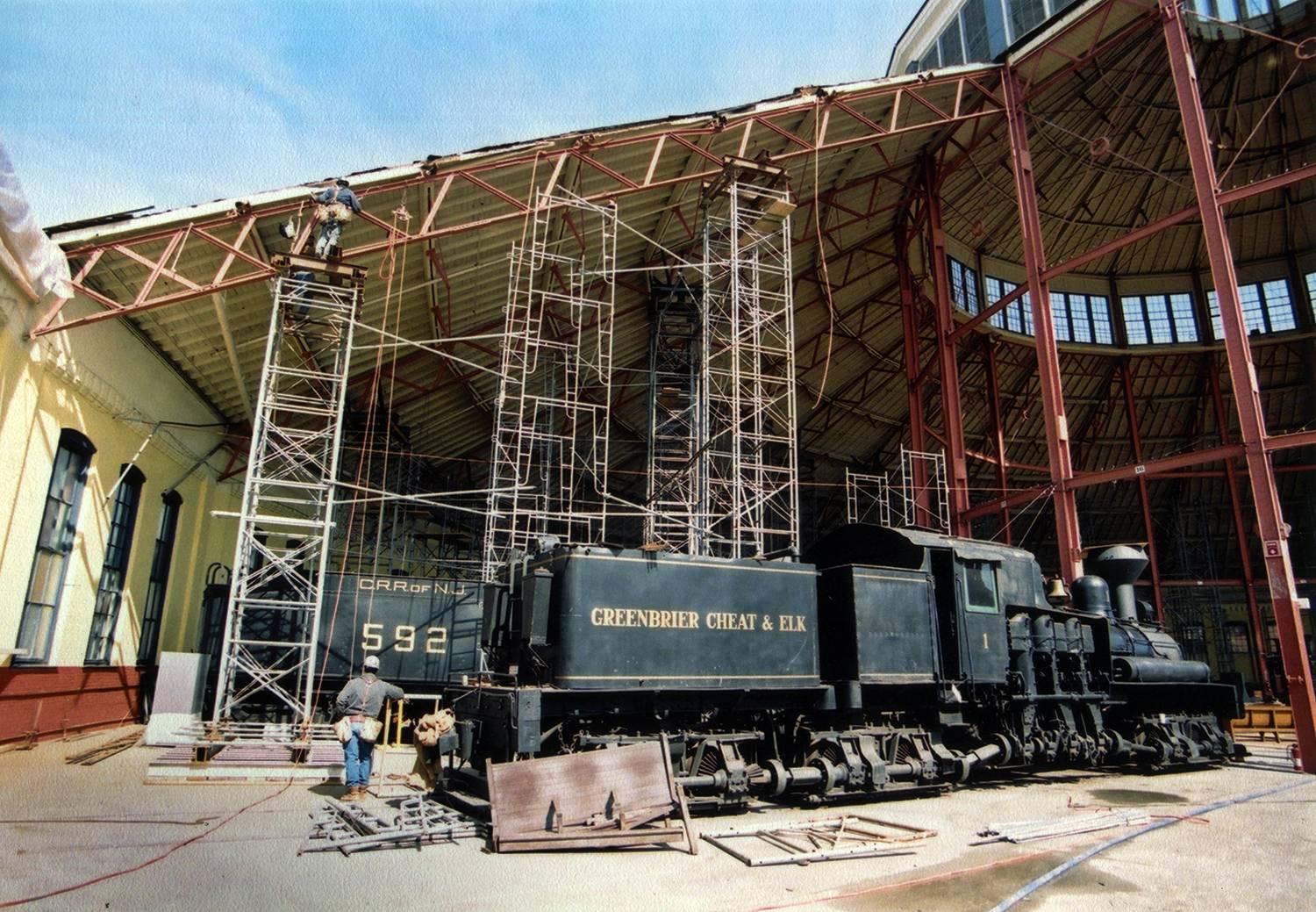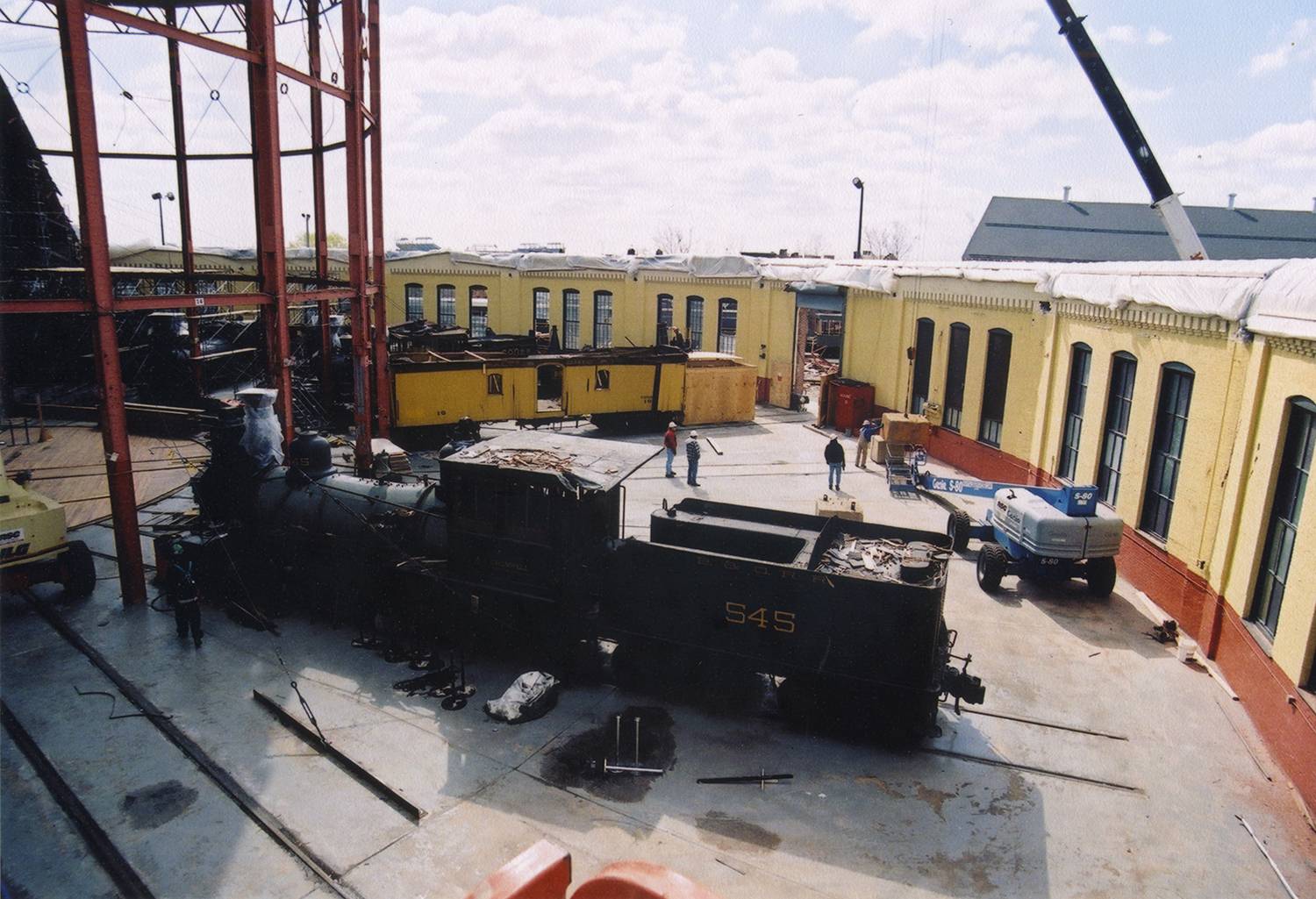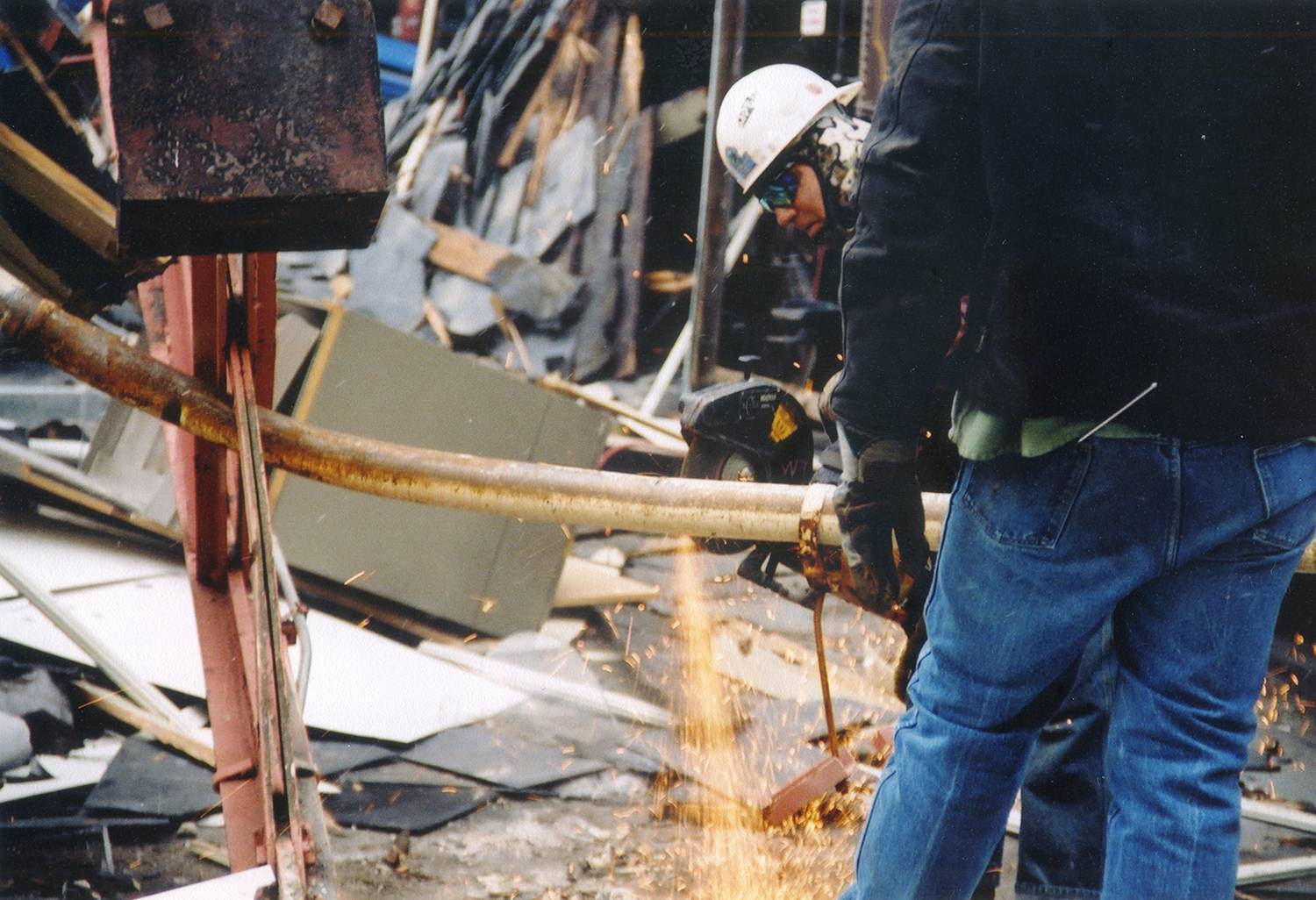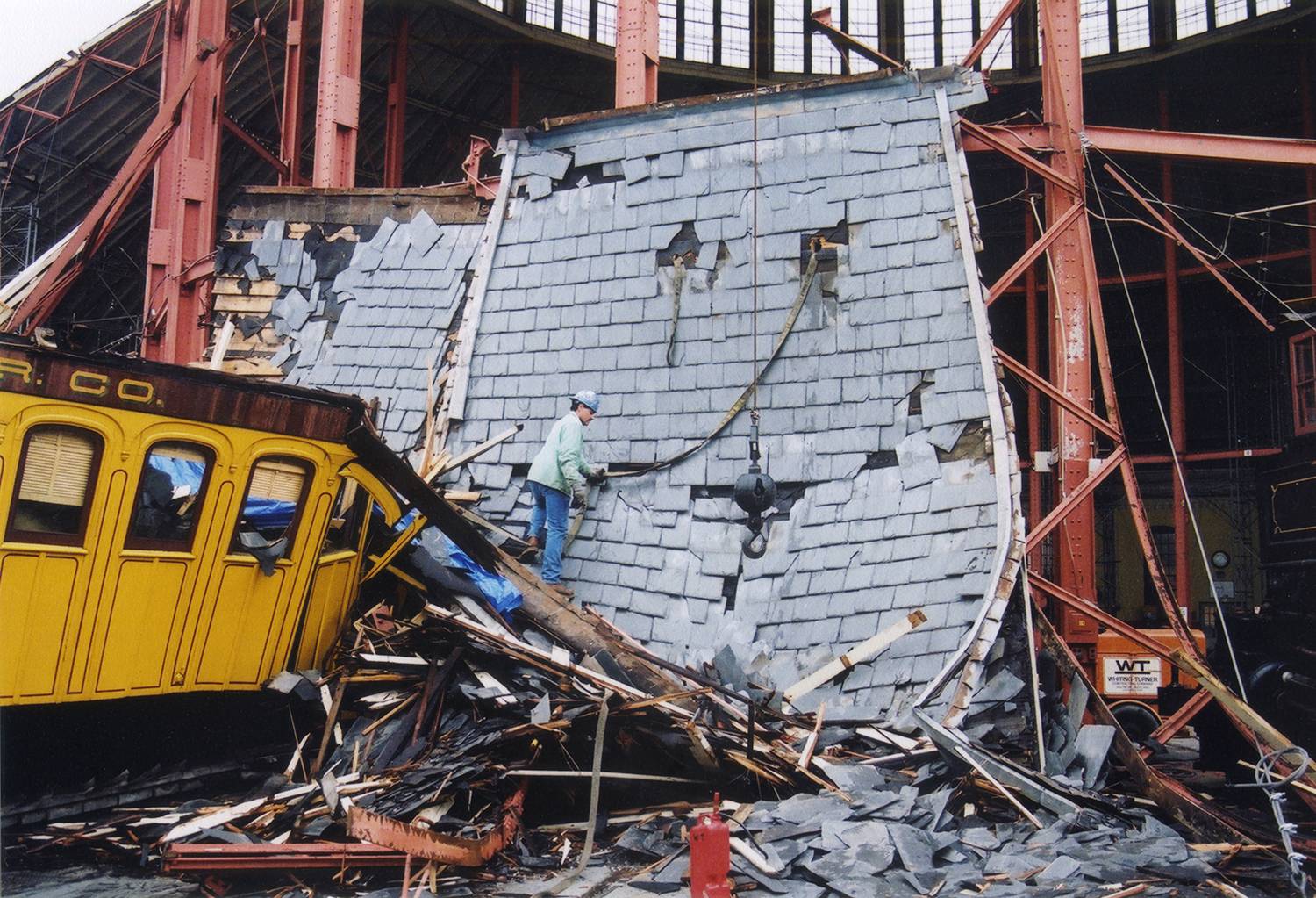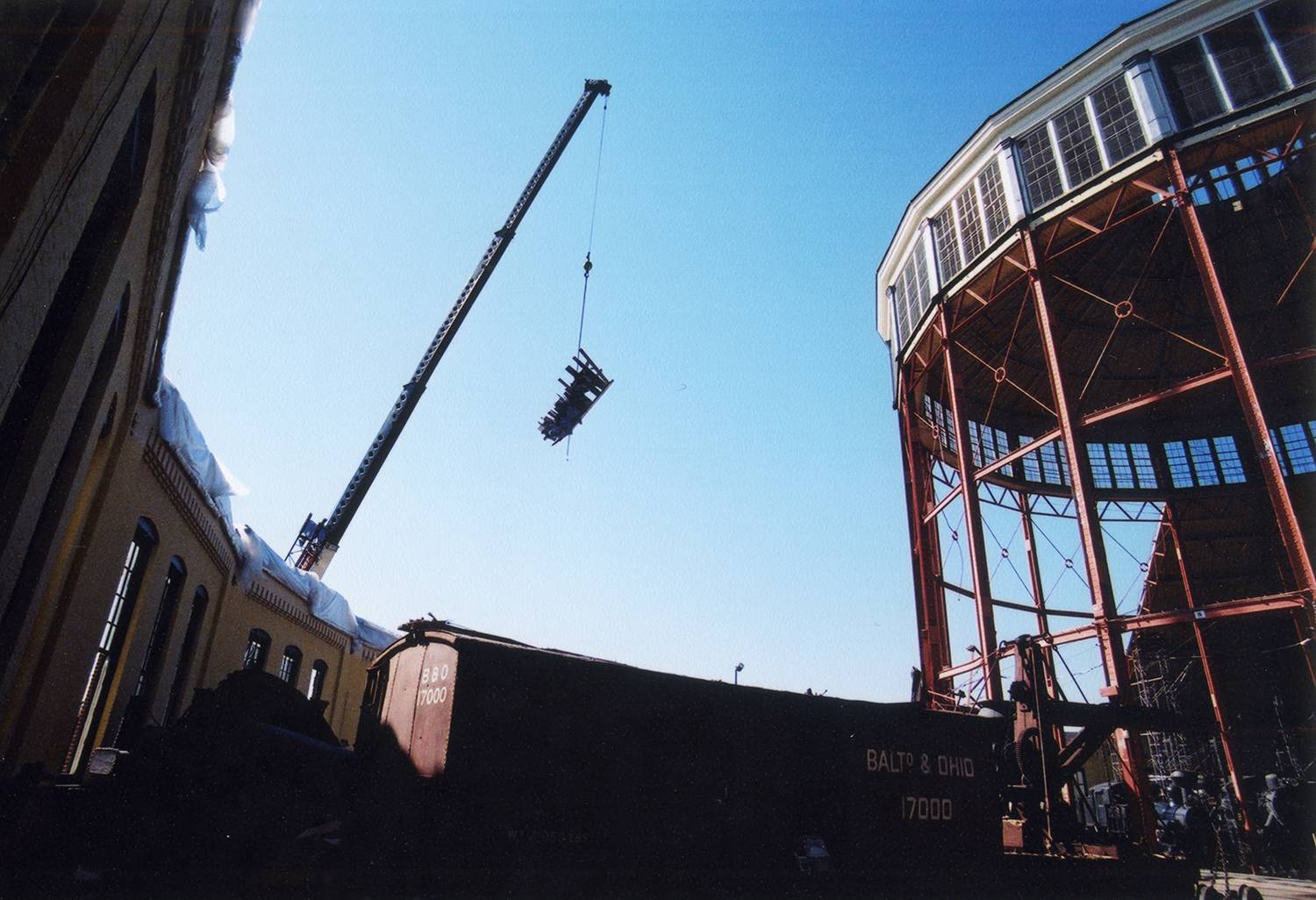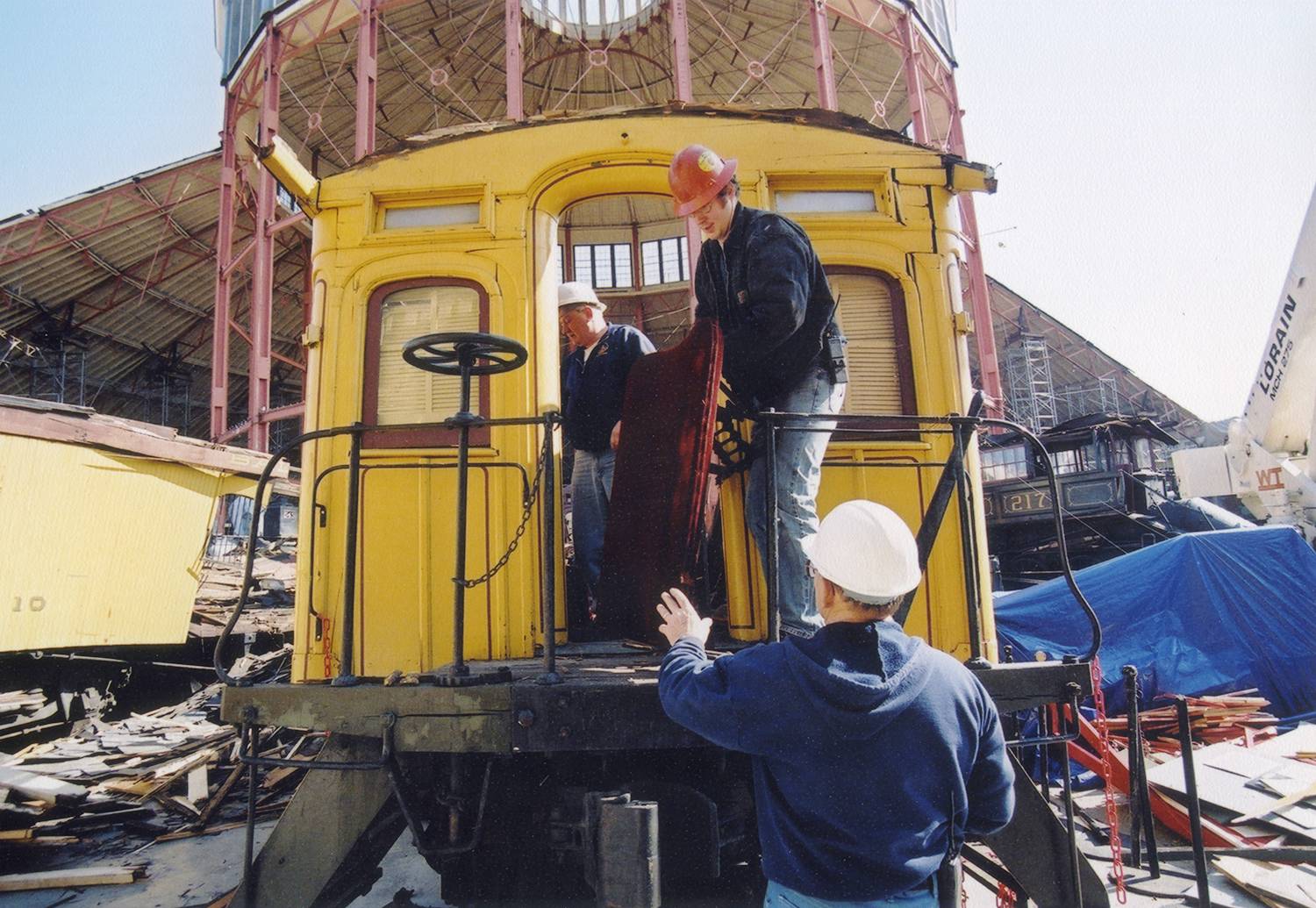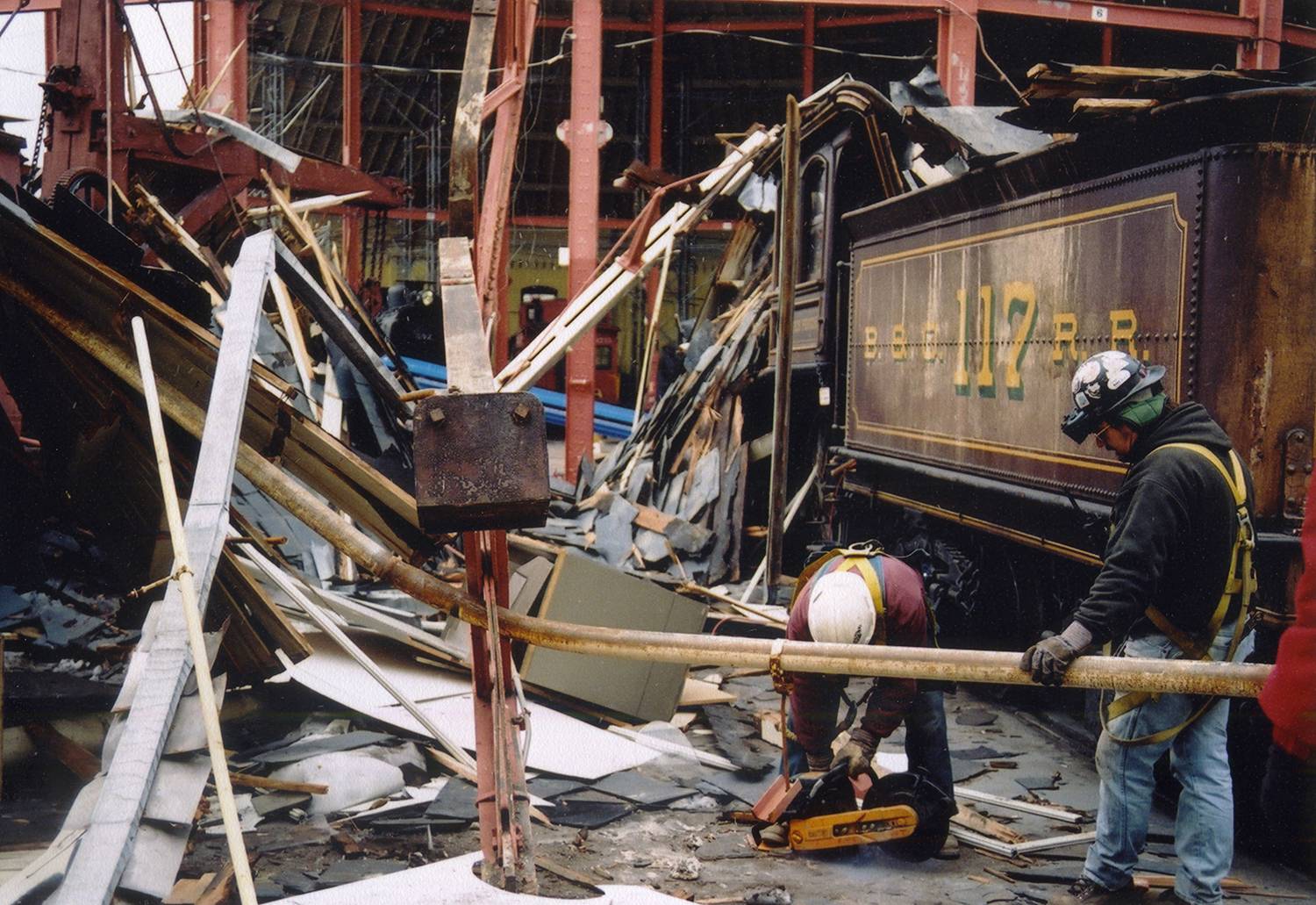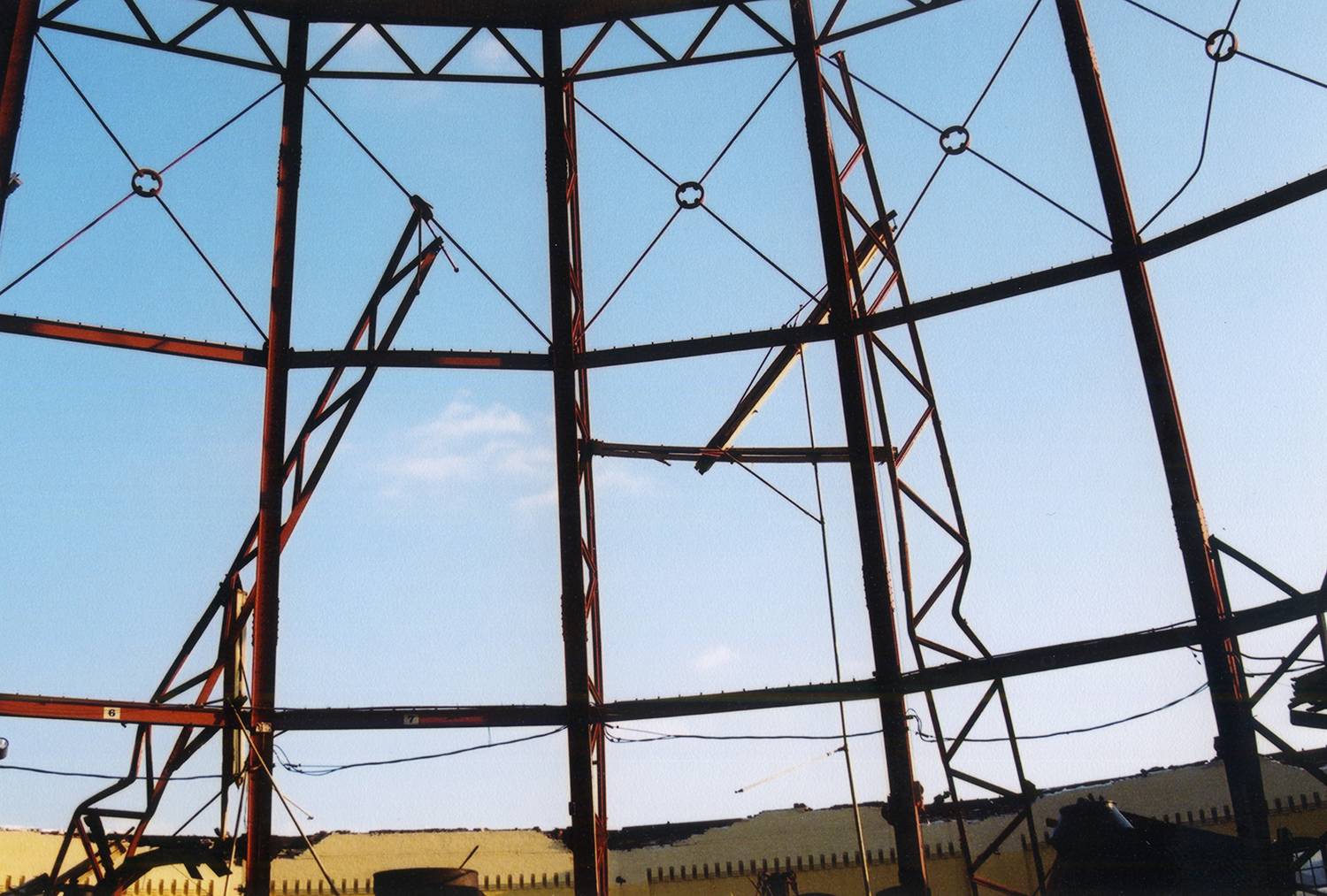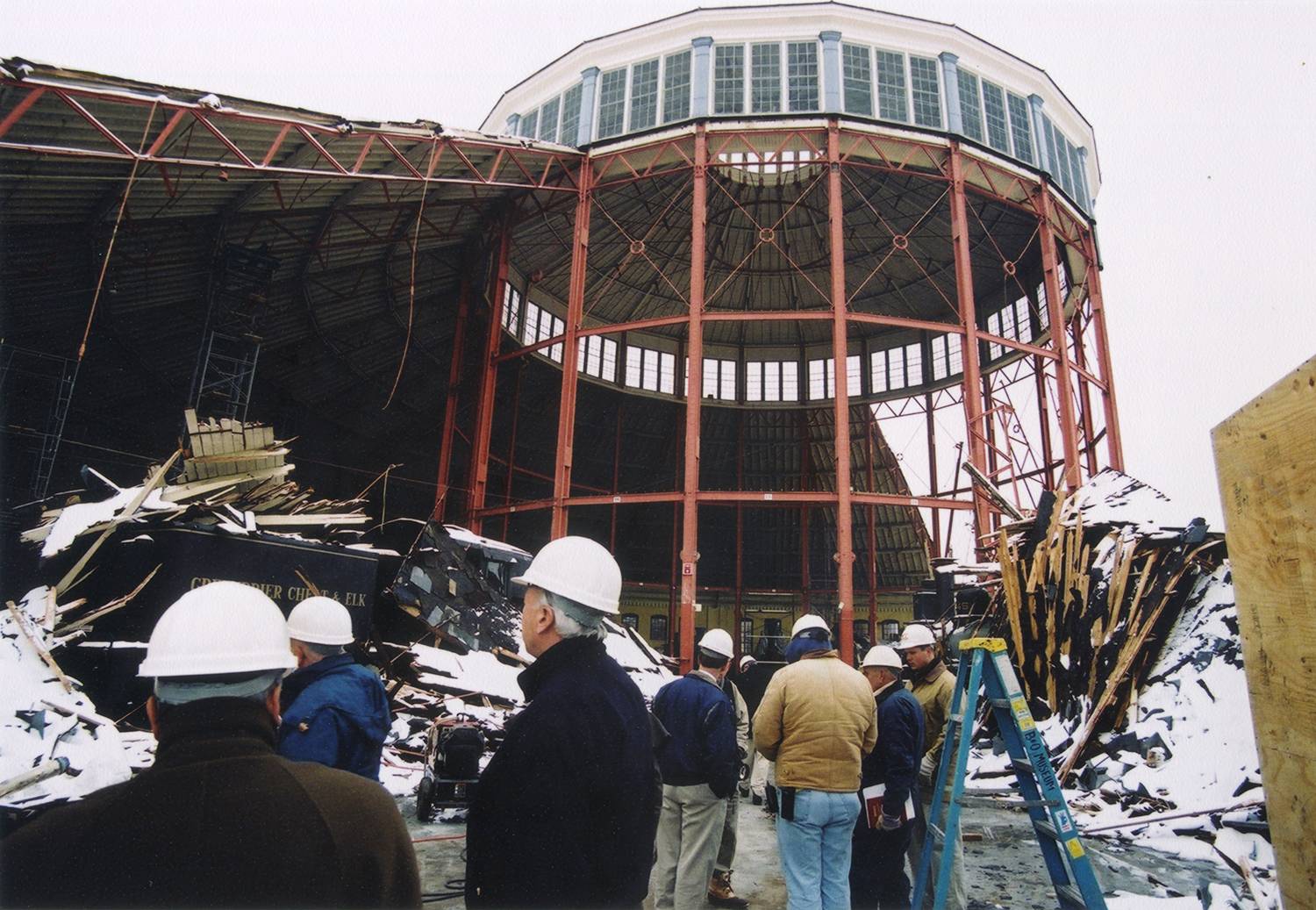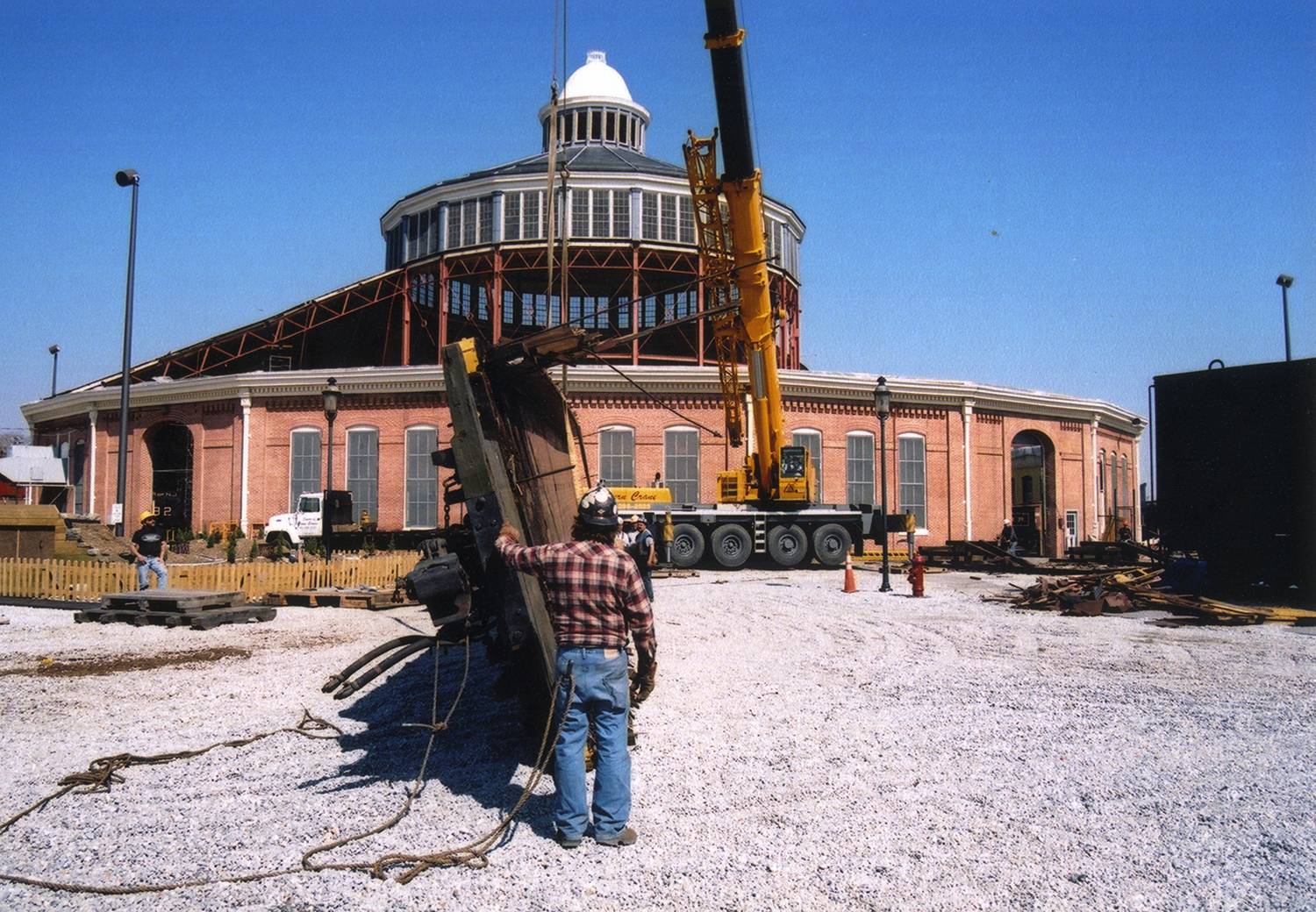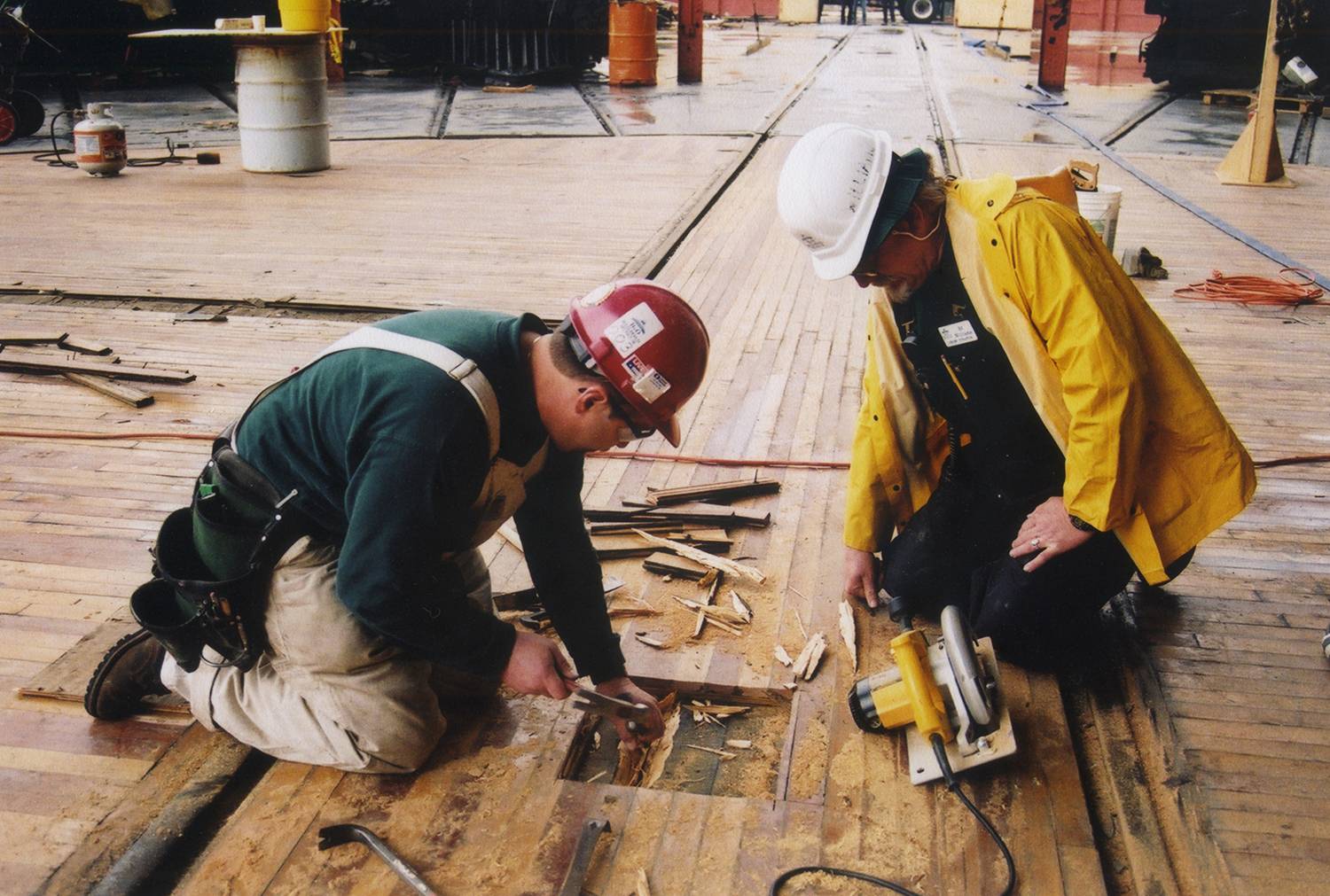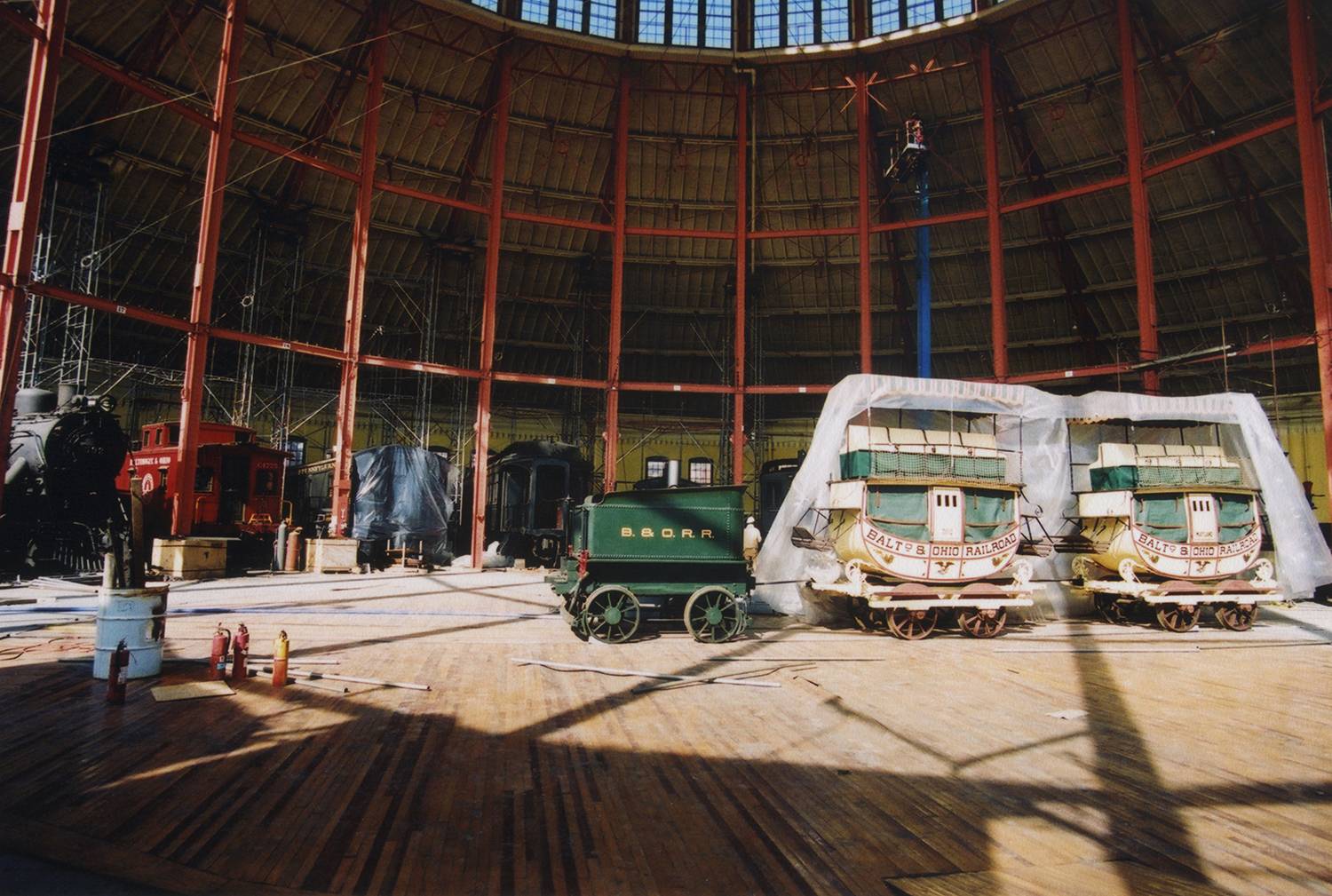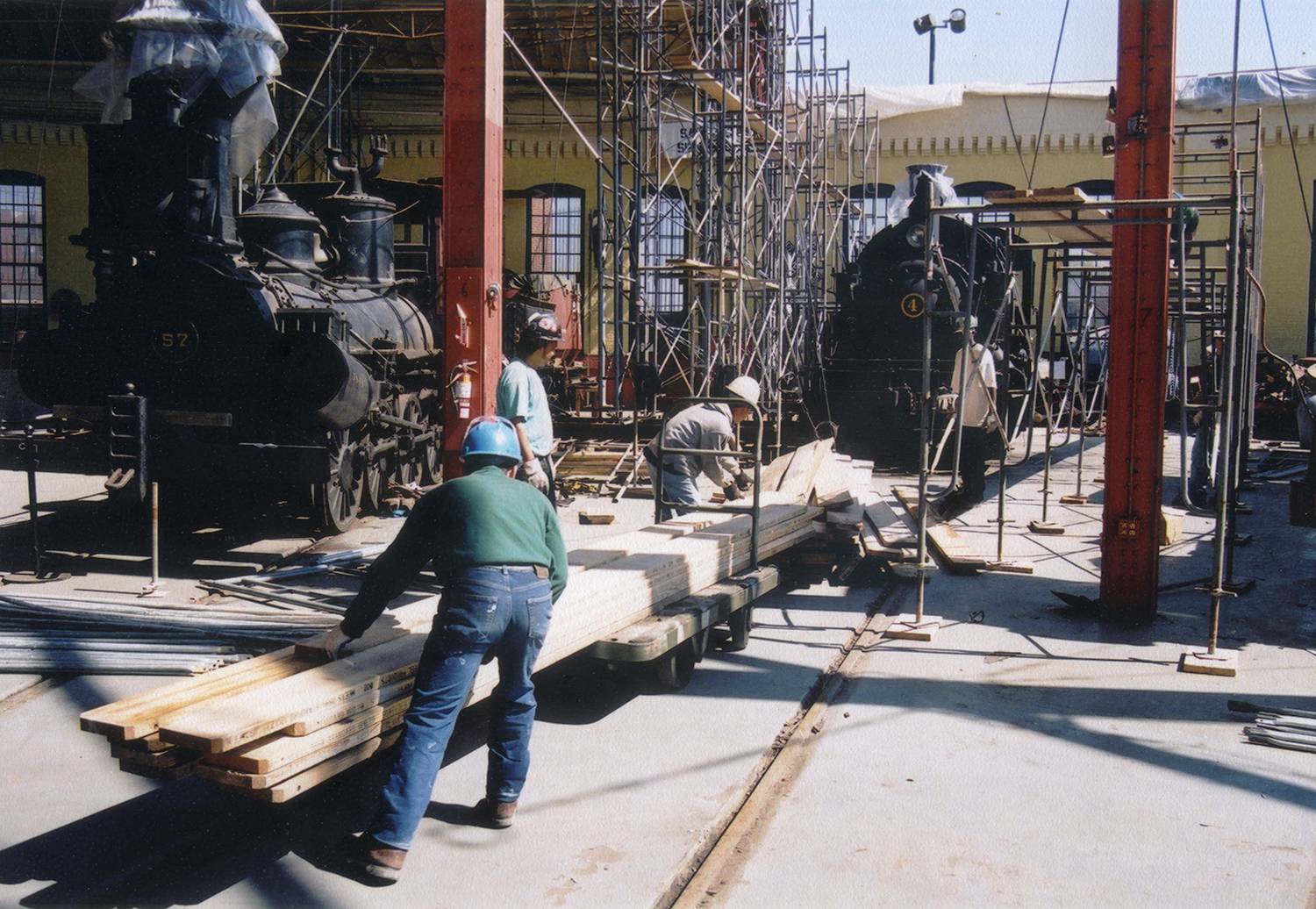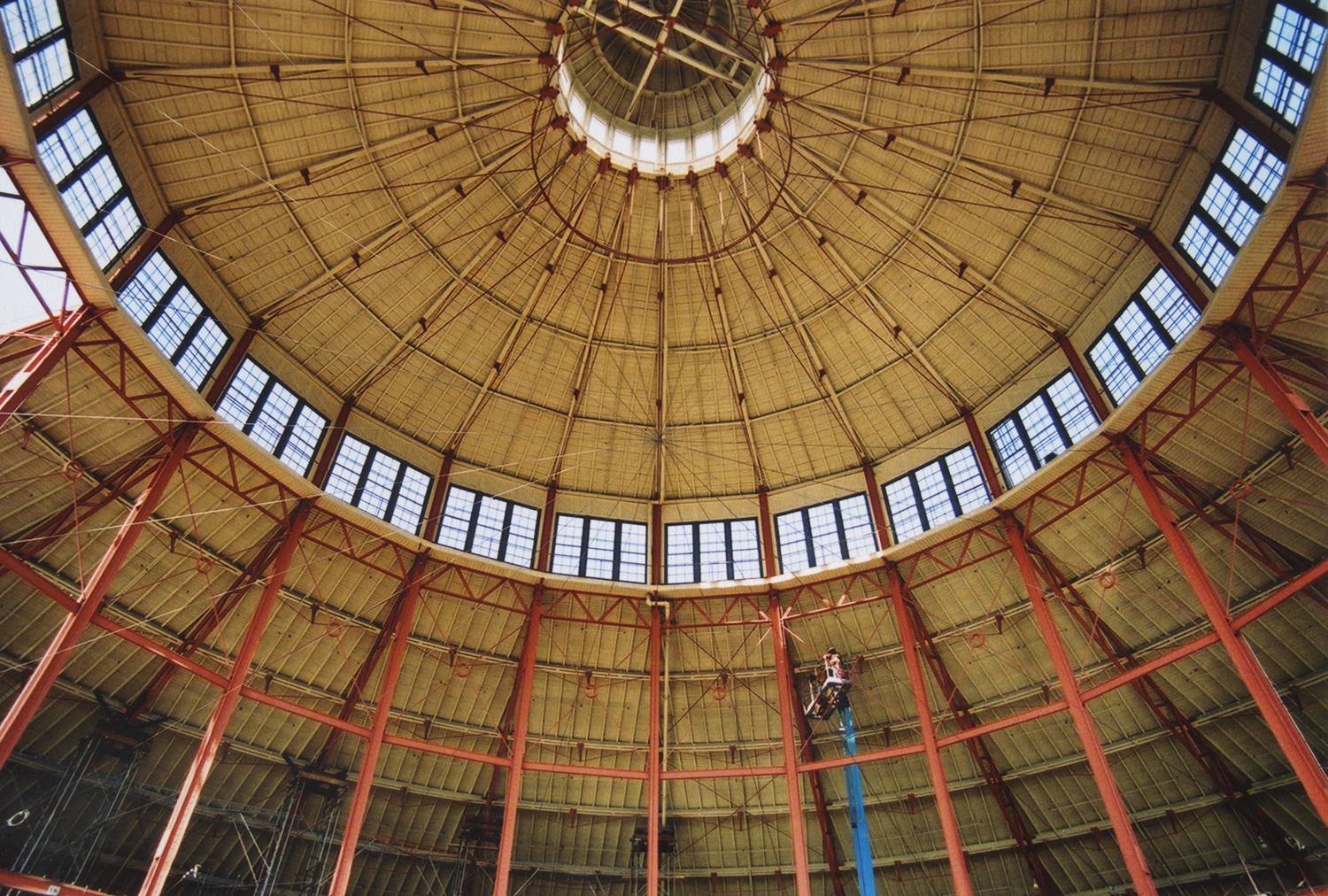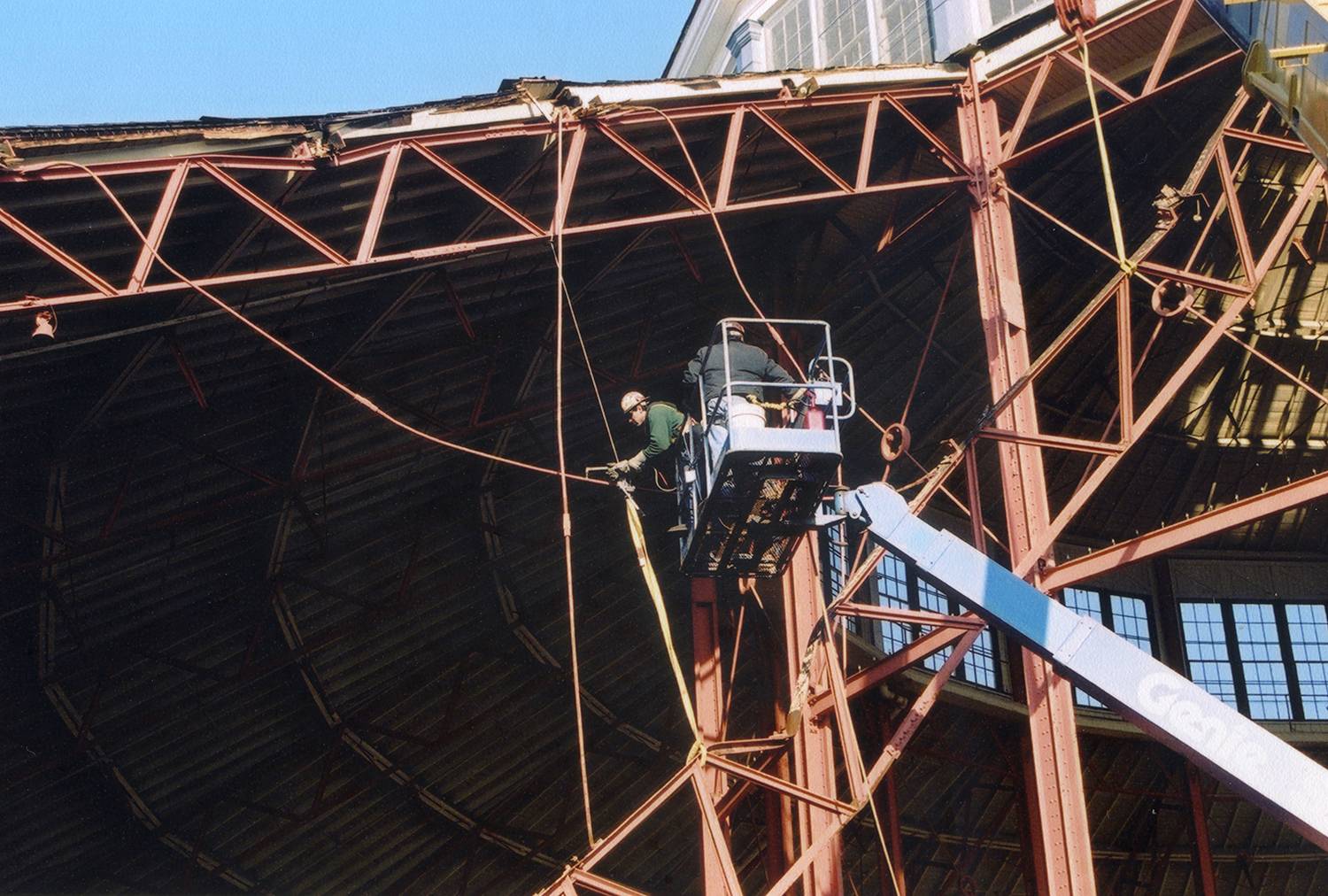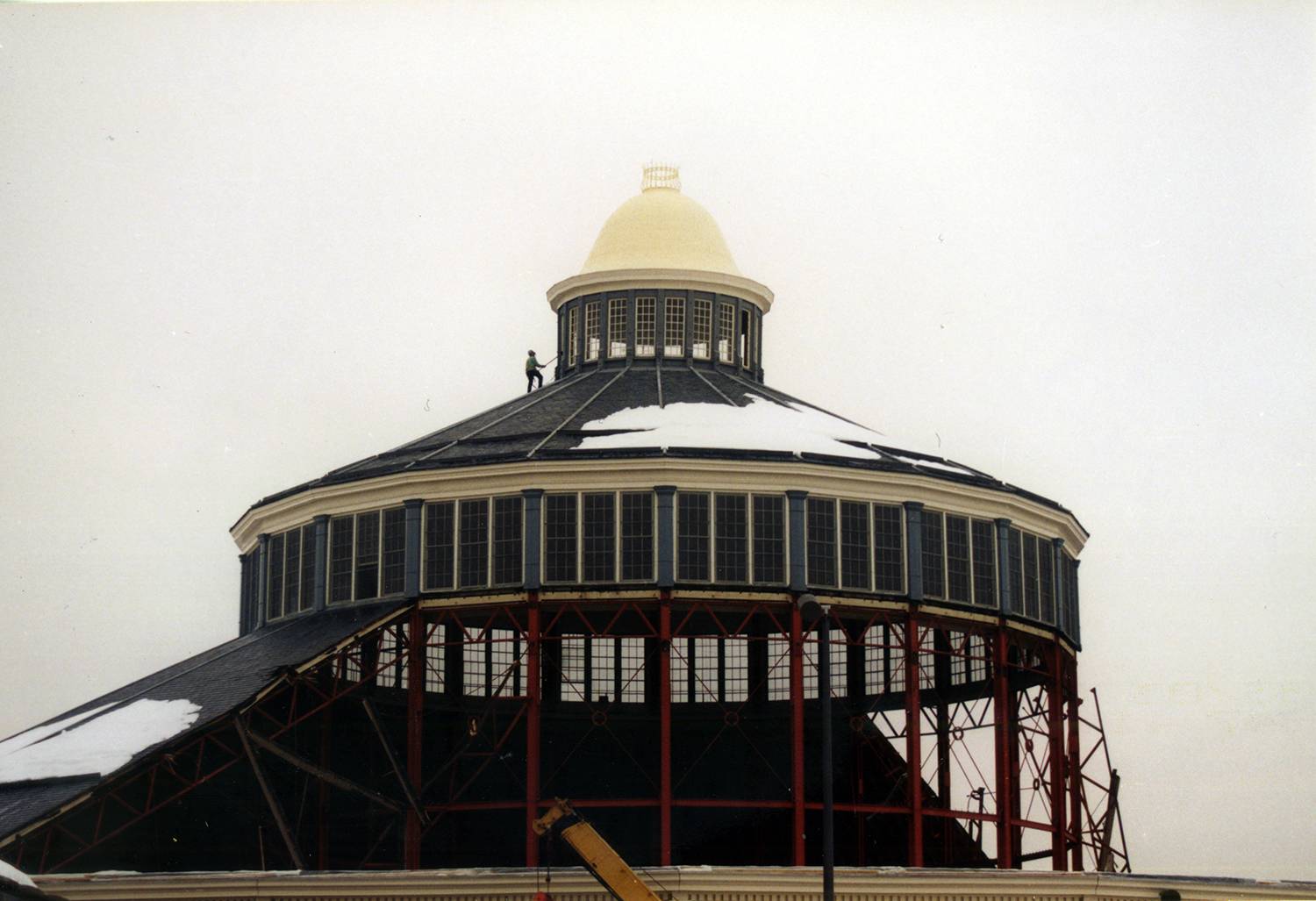 Photos: B. Miller
The new roof structure, although constructed with new materials, preserves the original intent and design of architect E. Francis Baldwin. In addition to the roof, much of the original turntable had to be reconstructed due to damage sustained when the Roundhouse flooded.
As a by-product of the Roundhouse roof collapse, the Museum's 27,000 sq ft Restoration Shop was established to repair and restore rolling stock damaged in the collapse. The facility spent more than a decade repairing the collection back to its original state. It is home to the largest paint booth in the Mid-Atlantic and has a carpentry area, classroom space, and observation platform.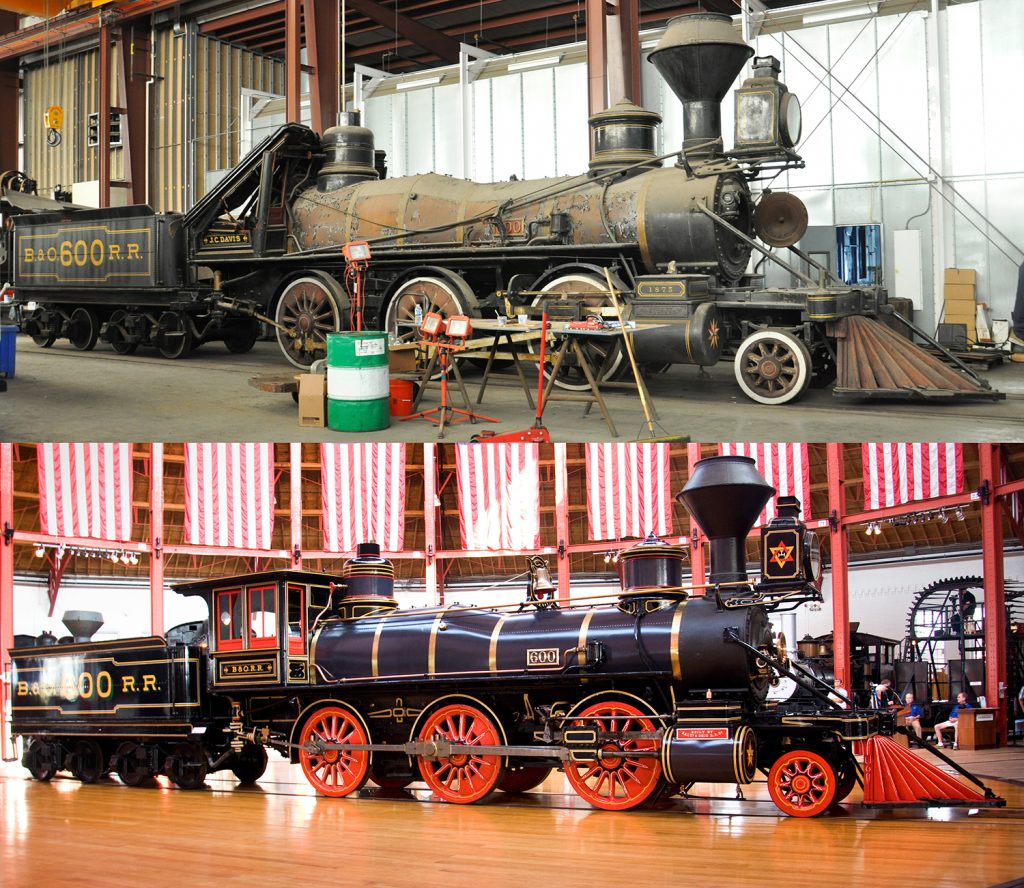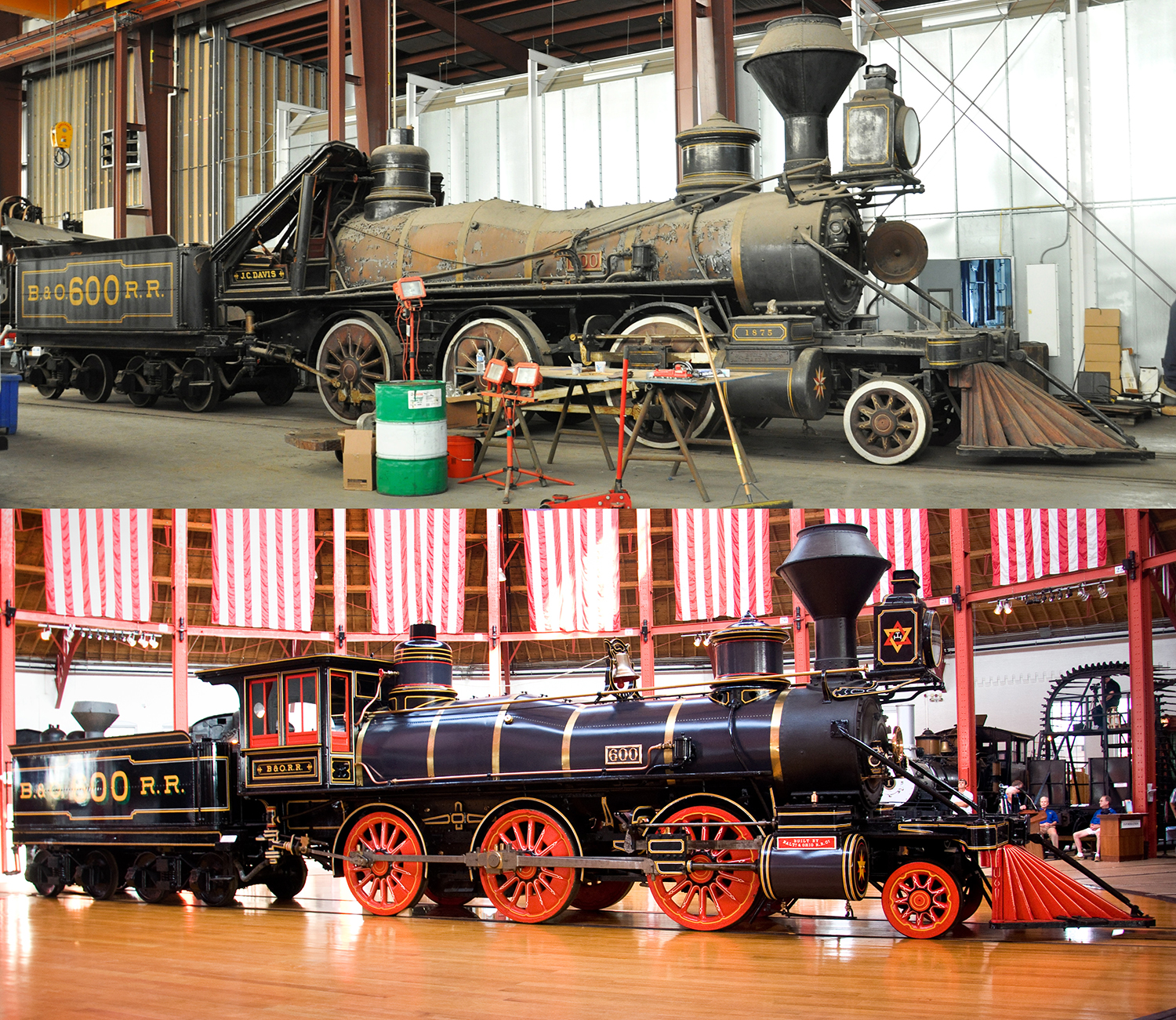 The Restoration Shop continues to conserve and repair other collection pieces as an ongoing legacy of the resilience of the Museum – the B&O No. 51 being one of the latest completed examples.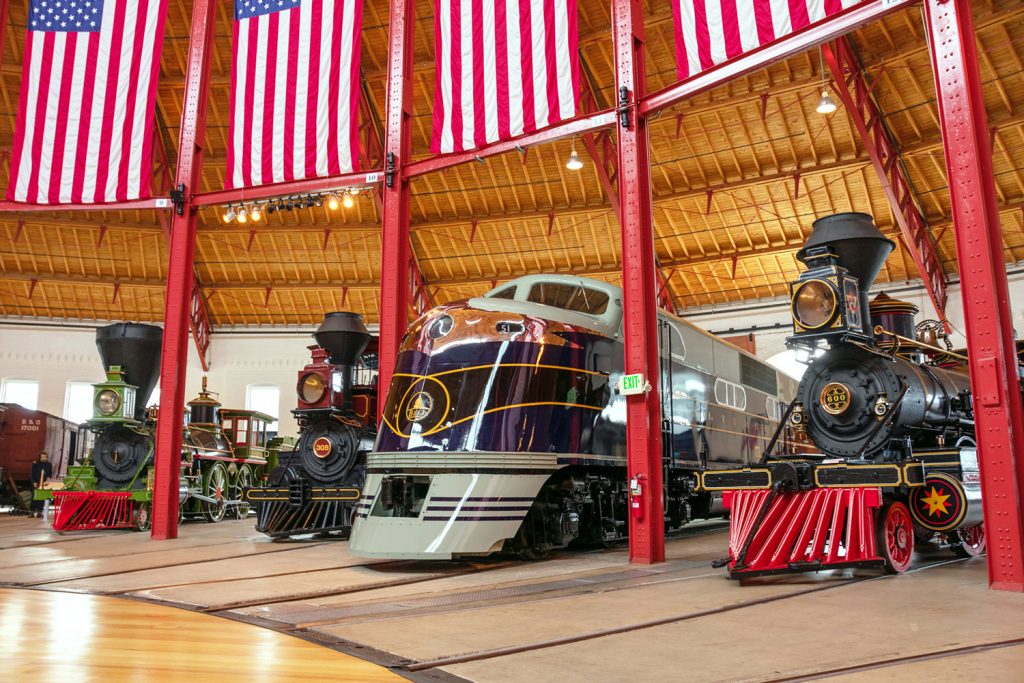 Photo: J. Carter
Repairs to the Roundhouse took 22 months to complete, with the Museum reopening on November 13, 2004.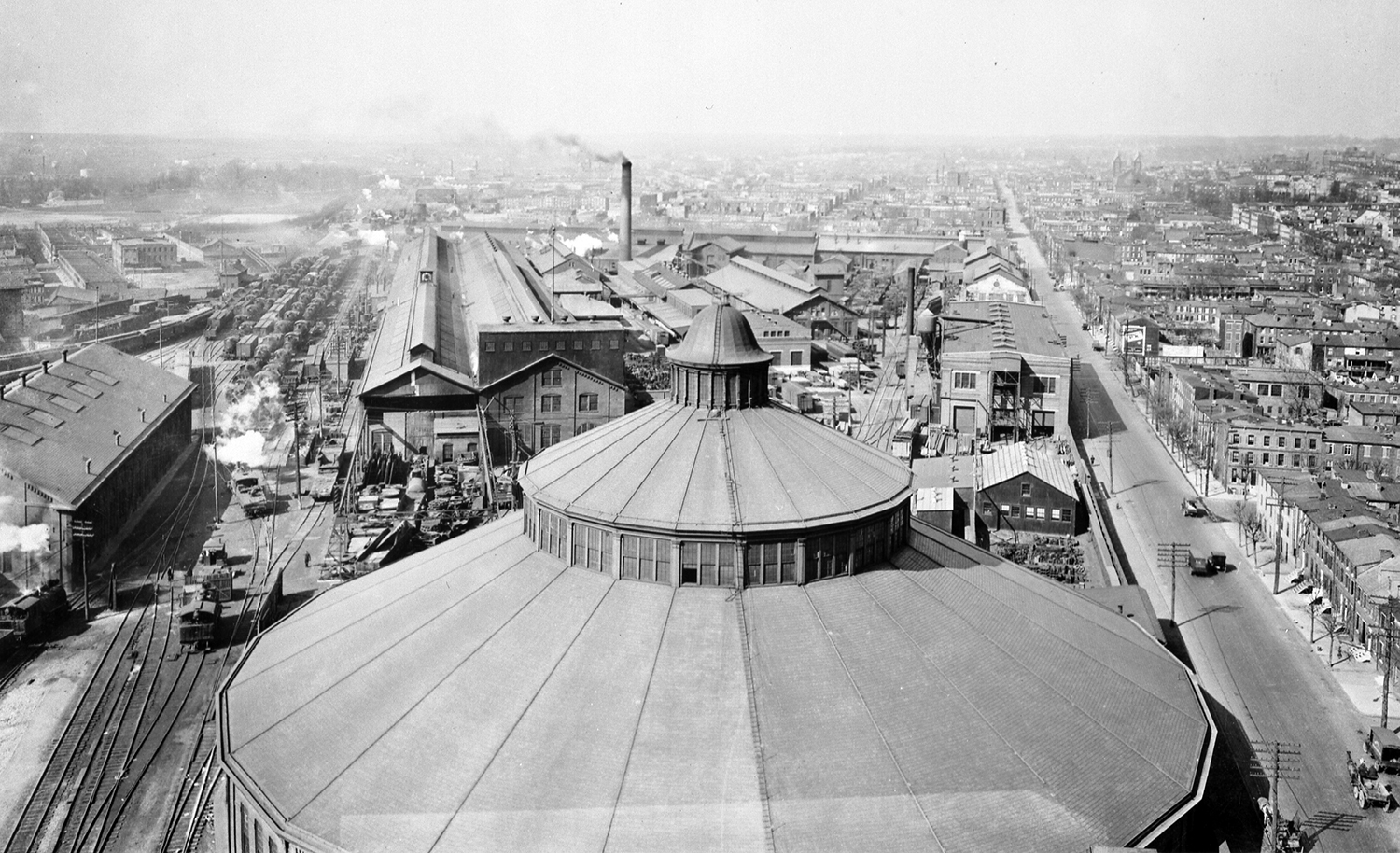 Historic Site
The B&O Railroad Museum's 40-acre historic site, called Mt. Clare, is a National Historic Landmark and is the original site where the Baltimore and Ohio Railroad founded America's first commercial railroad in 1827.
Learn More